Want to strike chords with pocket-friendly flower delivery apps?
Floral bouquets and surprises are the easiest way to impress or uplift our mood. However, offline florists are becoming a dodo in the digital economy like any other physical retailer.
Don't be a dodo.
The consumer behaviors and landscapes have largely changed, and the businesses that adapt to changes can only do well. Moreover, the flower delivery app business is an unexplored market vertical.
The telephone flower delivery app company, 1-800Flowers, has recently crossed the $2 billion mark. Isn't that amazing? Further, The United States has a handful of flower delivery apps.
You can understand what I mean. A lot of opportunity lies in flower e-commerce.
But how is the floral market tipped for a johnny come lately? How much does it cost to develop a flower delivery app? How to cut prices in app development? This blog answers the question and mentions ways to strike a bargain.
Why should you consider a Flower Delivery App?
Hunting for gold pots?
Flower delivery can be a business to look for. But why?
Let us consider the phone number, 1-800-Flowers.
In the third quarter of 2021, the net income of the flower delivery app company increased from $59.1 million to $118.4 million, or $1.78 per share, compared to the same time the previous year.
Adjusted EBITDA climbed $17.8 million to $15.4 million in the same quarter, compared to a loss of $2.4 million the year before.
However, adjusted net income climbed 88.6% to $122.6 million, or $1.84 per diluted share, in the fourth quarter, compared to $65.0 million, or $0.98 per diluted share, in the prior year.
In the full year ending June 27, 2021, overall revenues climbed by 42.5 percent to a record $2.12 billion, compared to $1.49 billion the previous year.
Adjusted EBITDA climbed $17.8 million to $15.4 million in the same period, compared to a loss of $2.4 million in the previous quarter.
So, isn't a flower delivery app that can own you a unicorn?
In addition, the global market survey reported that the floriculture market would show a compound annual growth of 5.7 percent year on. All above, the market revenue will potentially grow to $70.85 bn by 2027.
What are the money making sources for a Flower Delivery App?
The revenue figures are overwhelming. Each company sees millions every year, and also the numbers are expected to grow.
But a flower delivery app sees revenue only through three major monetization channels.
Commission
The commission is paid out in a certain ratio based on certain criteria.
Typically, the client must pay a higher proportion of commissions for a top listing on the flower delivery app. At the same time, a lower percentage of commissions is charged for a dropped listing.
The flower delivery app company ties with several hundred flower vendors. This strategy generates recurring money for the companies and is a significant source of revenue.
In addition to increased exposure, the partners of the digital marketplace bring large profits by receiving appropriate commission deductions, as they see hundreds of orders every day.
Featured Listings
Listing with a special emphasis. On the display window, this provides desired ranks.
Businesses or suppliers pay the app owners to improve their ranks and attract more users. Because the fees are substantially greater than the prior affiliate marketing technique, the app's revenue is leveled.
Ad Campaigns
Ad campaigns are another source of revenue for a flower delivery app. It offers new bouquets chains and florists marketing promotion through its app.
The flower delivery app promotes their company so that the users find it at the top of the search results. It increases the number of orders placed each day, resulting in direct revenue for the app company.
In the same way, its marketing strategy brings in additional consumers and money. Advertisements on social media accounts and search engines bring in more clients and open up new company opportunities.
AppsRhino offers the best Tech-driven solutions for Home services, Laundry delivery, Alcohol delivery, Grocery Delivery, Food Delivery, and Taxi Services: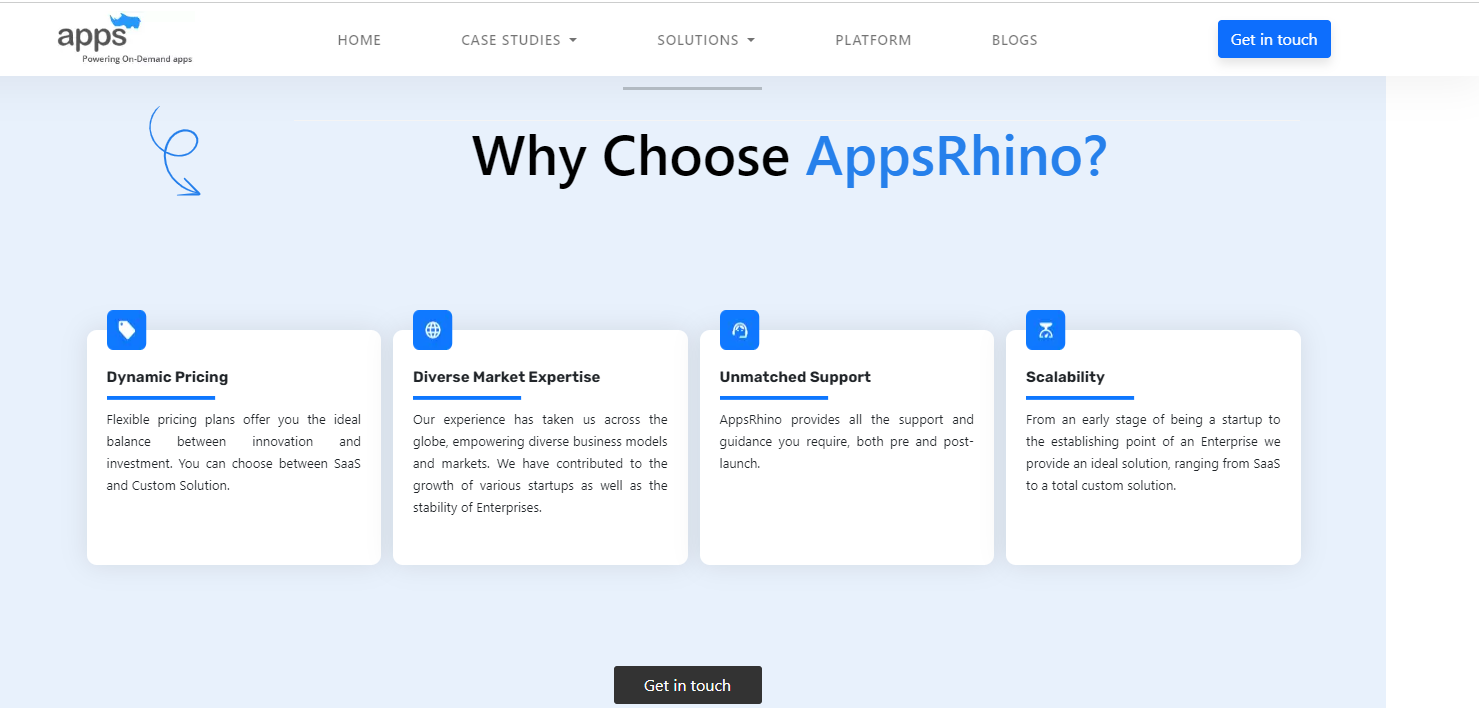 How much does it cost to develop an on-demand Flower Delivery App?
We had an amazing read on how the flower delivery app brings revenue and how much they see. But the app development cost can make or break the deal.
Is the cost of developing a flower delivery app significantly less, or is it significantly high? Read on.
After you had enough brainstorming on your market, business objectives, and mode of operations, you are now bringing a budget. And a significant amount is involved in app development.
There are several ways to estimate the cost of your app project, and the most reliable is to contact app developers. However, without any references and details, you may end up with ambiguous prices.
For your reference of the flower delivery app, 'Uber for X' can be great. Uber, a ride-hailing service, serves as the most prominent reference.
'Uber for X' has three stakeholders, the partners (Here, florists and flower vendors), the customers, and the admin. And so the screens.
But your 'Uber for Flower' may have four screens if you include delivery partners. So, two or three mobile apps and a web app for the admin. At a rough, developing a flower delivery app like Uber may start from $50,000.
However, several crucial factors to consider in your flower app project add to the price.
Number of screens and the complexity of the design
Development process
Platforms on which the app will run
Quality assurance phase
Number of functions and features
The complexity of features
The number and complexity of third-party integrations
Security implementations (GDPR)
Size and level of the development team
Anyhow the calculation of a flower delivery app development is simple. It is the number of hours spent on the app project * the per hour rate of the developer.
The more heavily coded apps, the better their user interface is, so more hours are required. However, there are several tips to cut down the flower delivery app development price.
You can go for a cheaper location when choosing the region app development. For example, the United States has the priciest app developers. They charge around $120 to $150 for an hour. In contrast, the programmers in India charge something around $30 to $40 for an hour.
You can also do a price cut on unnecessary features or advanced features. While cost-cutting on features, you can not compromise on the usability and functionality of the flower delivery app.
Your app must include some obvious features like:
Social login
Easy search
Cart
Payment integration
Geolocation
routing route optimization
SMS and push notifications integration
While some advanced features include:
Repeat Order
Nearest Stores
Heat Maps
Marketing and Promotional Tools
Queue Algorithm
Integrations with CRM
Content Management System (CMS)
And others
Wrapping Up
You know how much money you need to spend on flower delivery app development. Still, you have to choose a developer team.
To our concern, mobile app development is itself a booming sector. Nearly 30,000 iOS apps and 100,000 apps are launched every month on the Apple Store and Google store. And there are a lot of developer teams to choose from.
But who is the most suitable for you?
The skill level of the developer team, the programming language they use, and the number of specialists involved are crucial to your flower delivery app development project.
To solve your dilemma, AppsRhino is the best possible option.
Frequently Asked Questions
What factors determine the cost of developing a flower delivery app?
The cost of developing a flower delivery app depends on factors like app complexity, desired features, platform (iOS, Android, or both), design requirements, development hours, and the expertise of the development team.
Is it more expensive to develop a native app or a cross-platform app?
Native apps, built specifically for one platform (iOS or Android), usually have higher development costs compared to cross-platform apps, which can be developed for multiple platforms using frameworks like React Native or Flutter.
What are the essential features to include in a flower delivery app?
Essential features include user registration and profiles, flower catalog with images and descriptions, search and filter options, secure payment integration, order tracking, delivery notifications, ratings and reviews, and customer support.
How does the app design impact the development cost?
The complexity of the app design, including UI/UX elements, animations, and custom graphics, can impact the development cost. Intricate designs may require more development time and effort, thus increasing the cost.
Does integrating third-party services affect the app development cost?
Integrating third-party services such as payment gateways, delivery tracking APIs, and SMS notifications may increase the development cost due to additional development and integration efforts.
Do ongoing maintenance and updates add to the overall cost?
Yes, ongoing maintenance and updates contribute to the overall cost. Regular updates, bug fixes, server maintenance, and ensuring compatibility with new OS versions are necessary to keep the app functional and secure.
Can the cost vary based on the development team's location?
Yes, the cost of development can vary based on the location of the development team. Developers in regions with higher labor costs may charge more compared to developers in regions with lower costs.