'Slow and steady wins the race.'
Such is the case with the world's leading alcohol marketplace, Drizly.
Drizly carved a unique, step-by-step growth strategy for itself and eventually transformed the way alcohol is bought and sold across various continents.
Co-founded in 2012 by Cory Rellas and Nick Rellas, the Boston-based start-up, which was one of the first few on-demand liquor delivery apps to make its way into the market, is today one of the dominant players in the space.
As per Slice Intelligence, Drizly currently holds the second-largest share among all on-demand alcohol delivery providers.
So, How does Drizly work and what does it do?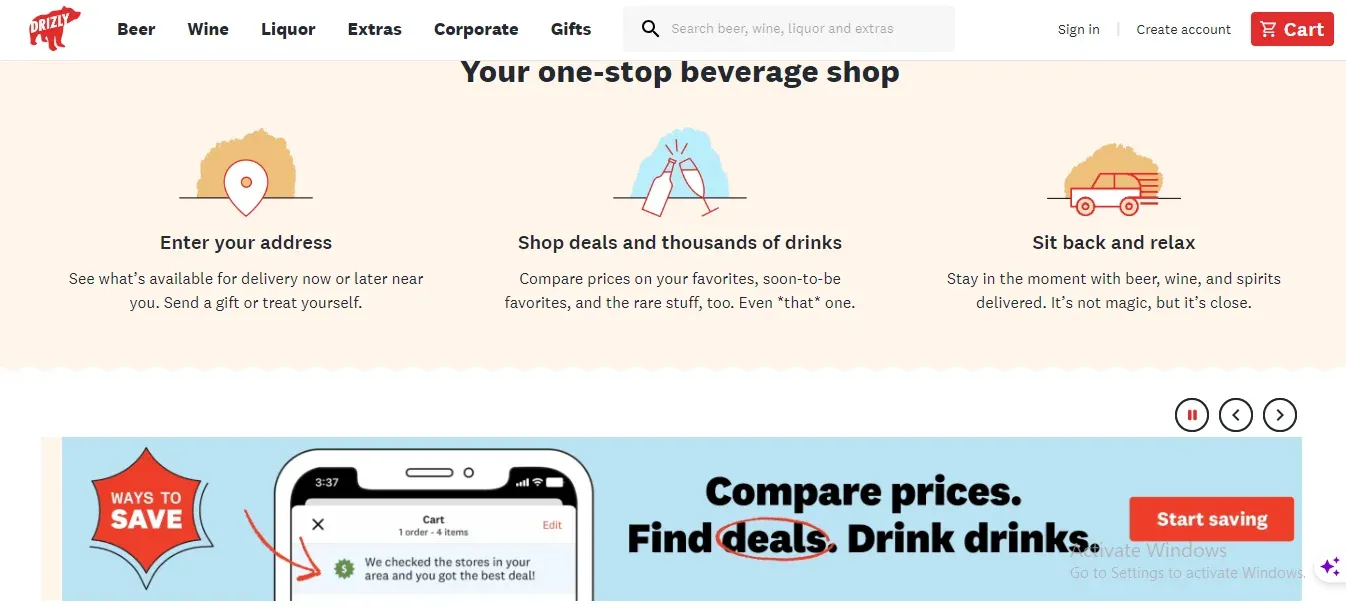 Simply put, Drizly allows users to shop for alcohol through its mobile app conveniently.
It features a wide range of drinks on its platform, including different types of beer, wine, other liquor, and various non-alcoholic beverages and mixers.
The company currently has a tie-up with around 1400 liquor stores. It offers on-demand alcohol delivery markets in North America, including Los Angeles, New York City, Miami, Chicago, California, San Francisco, and many others.
The working of the Drizly app is quite simple. The customer directly places an order for the desired booze through the app.
This order is instantly routed to the closest liquor store, one of which is a registered liquor retailer and is a part of Drizly's network.
This store then ensures quick delivery of the order straight to the consumer's doorstep in less than an hour. Customers are notified when their order is on its way, which can be easily tracked via the Drizly app.
Thus, in the entire process, Drizly only acts as an intermediary between the alcohol consumers and the local liquor stores, using the best of technology to streamline orders and deliveries.
Reaching out to more and more consumers each year, Drizly has been growing by leaps and bounds in most cities, including in Connecticut, where it reported a 700% year-on-year increase in its sales in 2019.
Funding
The on-demand alcohol delivery giant has, to date, conducted five rounds of funding, raising a significant amount of $69 million from different leading investors.
In its last funding round, which was held in August 2020, Drizly secured an enormous sum of $50 million from a group of investors that included Avenir and Tiger Global, among others.
The funds raised are being used to improve the start-up's digital infrastructure and expansion activities, including opening more stores in more cities to broaden the customers' choice horizons.
Drizly's Business Model
The business model of Drizly is pretty unique. The start-up neither sells nor delivers alcohol, which means that it does not have any products or a delivery fleet of its own.
It directs all the orders to its partner stores and then fulfills all deliveries using its inventory and delivery personnel. This is the reason why Drizly proudly calls itself a tech intermediary.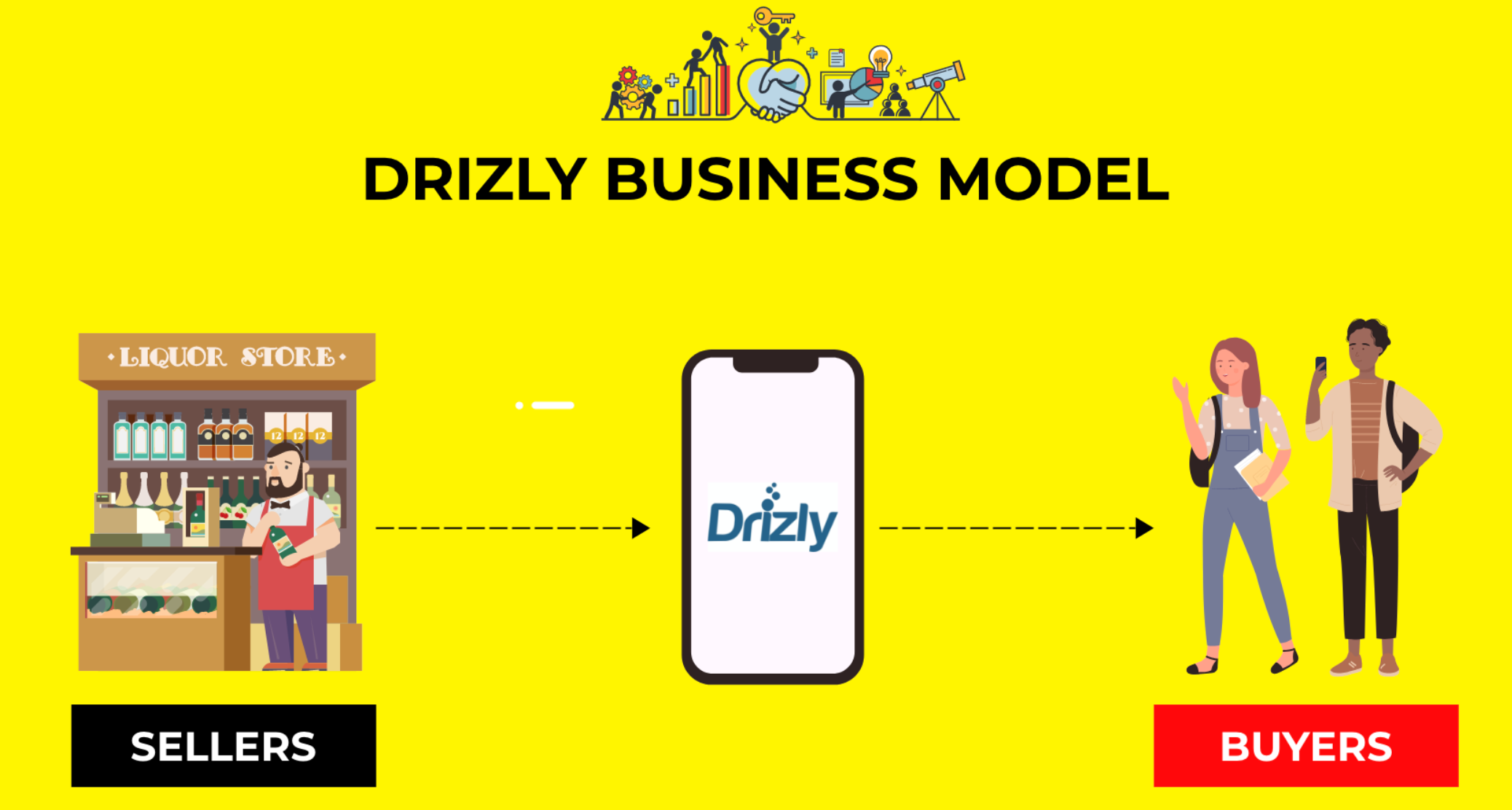 Partnering with Retail Stores
Having quality suppliers on board has always been a critical focus for Drizly.
Before partnering with any local liquor store, it conducts a thorough check on each store based on various parameters such as its product range, product availability, product prices, delivery team, POS, etc.
Once the initial check is completed, Drizly's app seamlessly integrates with the POS systems of all the chosen liquor retail stores.
This automatically brings their store inventory online. With the technology that Drizly offers, all its partner stores can accept orders instantly and fulfill them efficiently in less than an hour.
For all these retailers, partnering with Drizly works as a boon. Many of these local stores that do not have a web presence or an online product catalog of their own can generate increased sales by leveraging Drizly's platform. Something of this sort would not be possible otherwise.
Drizly's expansive reach, solid customer base, and excellent brand recognition have been helping retailers connect with many new consumers each day.
According to a report, 50% of Drizly's consumers have confirmed having shopped from a retailer for the first time using Drizly's platform.
Complying with the Law
Precisely, it's a no-effort game for retailers. Without having to undertake any sales or marketing initiatives, they can boost their sales and ensure steady revenues.
The same report also reveals that 75% of Drizly's users have been making repeat purchases from the same retailer.
To maintain compliance with the law governing the legal drinking age, Drizly follows a strict age verification process, ensuring that on-demand alcohol delivery to minors is prevented.
While placing an order for alcohol on-demand through the Drizly app, the consumer is required to confirm their age via an online verification process before Drizly approves the charge.
Further, the drivers who are out for delivery use a unique ID verification mobile app, Mident, which allows them to scan the IDs of all customers who receive the orders.
If this verification doesn't match, the drivers have been instructed to refuse the deliveries.
Revenue Model - How Does Drizly make money?
The start-up charges a monthly licensing fee from all its partners (liquor stores) who use Drizly's platform.
This monthly fee varies in the range of $100 to $10,000. The amount usually depends upon various factors like the value of the delivery, the zone served, etc.
Drizly does not charge any interest from its partner stores on any transaction, irrespective of the number of orders they receive or the number of deliveries they fulfill. All the money originating from liquor sales goes to the liquor stores only.
Also, Drizly does not increase the product's price for the consumer, i.e., there is no markup on any of the products listed on its marketplace.
The company only charges a delivery fee of $5 from its consumers.
What makes Drizly unique?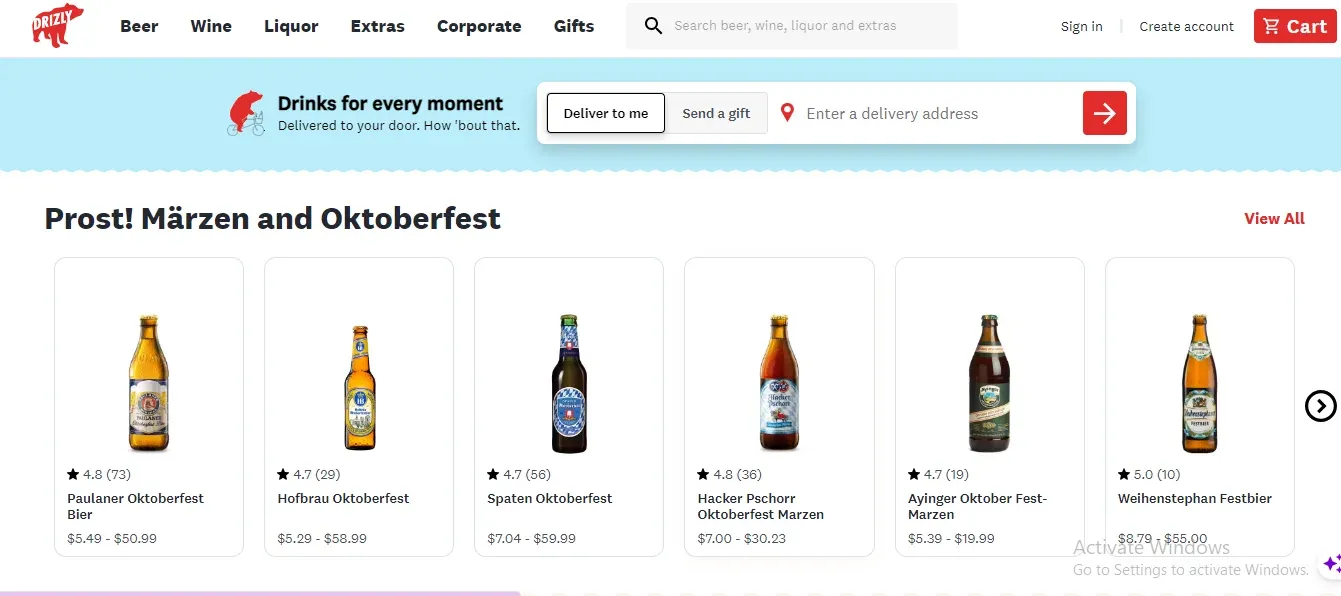 Since its inception in 2012, Drizly has been tirelessly providing a unique, unparalleled experience to all its users.
This makes the start-up stand out among other on-demand liquor delivery players.
Some of its noteworthy offerings, which are different from the others, are listed below:
Ample Choice for Users
Drizly has over 2,000 different products listed on its marketplace, which gives consumers a pool of options to choose from.
No other on-demand booze delivery player can boast of such a rich offering, which gives Drizly an edge.
Moreover, since there is no mark-up charged on any products, the fair pricing also works in Drizly's favor.
Expansive Reach
Drizly delivers in more than 100 cities in North America. No other on-demand liquor delivery player caters to so many cities.
Ease of use
The Drizly mobile app features a rich, simple, and user-friendly interface.
Consumers can easily explore drinks, compare prices, and place their orders for alcohol on demand through the app.
This ease of use that the platform offers is one of the factors why it rose to popularity among consumers.
Suggested Reading:
Superior Customer Experience
Customers always come first, and Drizly has always abided by this rule.
Therefore, make sure you create and deliver an exceptional experience to all your users and focus on establishing a long-term relationship with them.
Quick Deliveries
Customers like to receive their products as early as possible.
In the case of alcohol, there might be times when the demand needs to be fulfilled instantly to ensure the continuity of ongoing events, etc.
So, keep your delivery time as low as possible and rule out all possibilities of delays.
Quality of Retailers (Partners)
Another key takeaway from Drizly's success is choosing your retailers carefully and evaluating their offerings well before bringing them on board.
Be sure about the inventories, product details, and strength of their delivery network before taking the plunge.
Market Analysis
Study your market carefully before making an entry. Target only those areas and cities where the potential of your product is fairly high and the ratio of drinking population is significant.
Frequently Asked Questions (FAQs)
How does Drizly's business model work?
Drizly partners with local retailers to offer a wide selection of alcohol. Customers order through the Drizly app or website, and the retailers handle the delivery.
How does Drizly generate revenue?
Drizly earns revenue through a commission-based model. They take a percentage of each transaction made through their platform.
Does Drizly charge delivery fees?
Yes, Drizly charges a small delivery fee to cover the cost of delivery. The fee varies depending on the location and the retailer.
How does Drizly ensure alcohol delivery is legal?
Drizly's platform has built-in age verification processes. Customers must be of legal drinking age and have their ID checked by the delivery personnel upon arrival.
How does Drizly handle returns or refunds?
If there's an issue with an order, customers can contact Drizly's support team for assistance. Drizly's policy may vary depending on the specific situation.