Introduction
The demand for Android apps has increased lately as more and more people have started using them. As a result, businesses opt for developing Android apps to let people explore their services and get in touch to use them. If you are a business owner wondering what to do to increase your customer base, you have your answer here; develop android apps.
Statista states that people globally downloaded over 28 billion apps from the Google Play Store.
Also, contemplate for a moment. There are approximately 7.1 billion app users, and reaching even half of them would increase your business revenue by leaps and bounds. Thus, it will be beneficial to develop Android apps to get an edge over your competition in the market.
If you doubt whether developing Android apps is the right choice, stick around as this blog will tell you the future of Android apps and their advantages for your business.
What is the future of Android Apps?
Do you want to know the future of Android apps? If yes, read the following points to develop excellent Android apps for your business.
Artificial Intelligence In Future Android Applications
Artificial Intelligence is integral to mobile app development as it lets developers create more personalized application experiences that satisfy users' requirements. Also, it is anticipated the global Artificial Intelligence market will reach 70.94 billion dollars.
Besides Artificial Intelligence, predictive analysis, and machine learning algorithms will also play a pivotal role in Android apps' development to give users a more improved personalized experience.
If you want to incorporate Artificial Intelligence, you can include the following features in your Android apps:
Image Classification

Text

Predictive Maintenance

Speech Recognition

Face Detection
Blockchain Technology with Android
Those willing to develop a privacy-centered app should go for Blockchain. Today, Blockchain is famous and is one of the numerous technological advancements that offer transparency, speed, privacy, performance, etc. Besides these things, Blockchain also helps developers develop decentralized apps, and these apps interact with blockchain technologies such as Ethereum and others to improve operations and save data.
According to Global News Wire, Blockchain will rise to 52.5 billion dollars. Currently, the following apps use Blockchain technology:
Payment apps

Medical apps

Stock apps
All these apps need high data privacy.
5G Technology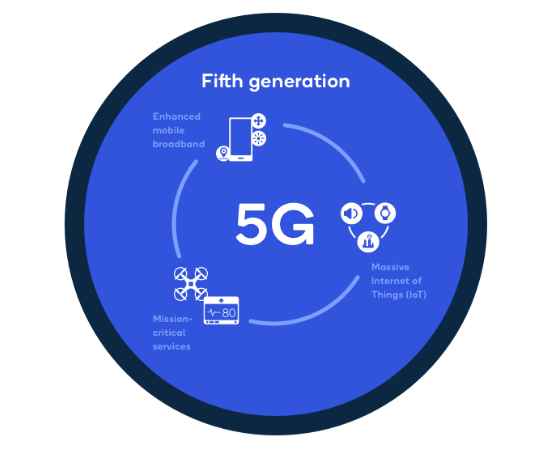 5G Technology was introduced in 2019, and today is the most lucrative app development trend. The four most crucial upsides to 5G technology over 4G and LTE are as follows:
Connectivity

Speed

Bandwidth

Low Latency



Instant Apps
These applications help users test and run applications on their devices without the need to download and install them. Since numerous apps are on the market, these options let users test their apps on various aspects. Also, it is easy to find the best match per your needs. The ever-increasing growth of instant apps means developers will have more attentive and make good and positive impressions. Several big names, for instance, New York Times, have already incorporated instant mobile apps.
M-commerce Applications
Today, people use smartphones to perform commercial activities and mobile commerce apps are used worldwide to buy the desired things from the comfort of one's house. And this current trend has offered new ways for app developers and businesses.
Businesses use M-Commerce apps as these let them achieve more revenue and growth. Apart from that, these Android apps also allow business owners to connect with their customers.
The reasons businesses love to use M-Commerce are as follows:
They are easier to manage.

These Android apps are smaller.

Such apps have high speed.
Developing M-commerce apps as Android apps is preferable because Android apps are more secure for making transactions.
What are the benefits of Android Apps?
Android app development is full of advantages. Here we list the benefits of developing Android apps.
High ROI with Lower Costs
The first perk of developing Android apps is the easy availability of the Android SDK, and the material design present in it can be used by development teams to create interactive apps. However, app developers must pay a one-time registration fee for app distribution. After spending the one-time registration, developers can use any computer device to create and test their products for their smartphones. It ensures low investment and enhanced user engagement.
In the end, users get the benefits of interactive apps, and enterprises earn a higher return on investment.
Faster Deployment
Those who want to enjoy Reduced Time to Market (TTM) can go for Android apps' development as these apps have a quick development cycle lasting a few hours. Thus, developing Android apps gives companies competitive edge who desire a faster go-to-market for their app idea.
Target Multiple Platforms
One of the main reasons organizations use Android app development is that it helps them target multiple platforms, as the Java programming language makes it easy to port your apps to various OSs such as Ubuntu and Symbian.
Besides Java, people use one more language called Kotlin to develop Android apps. Google has made it an official language for Android app development. You can use Kotlin Multi-Platform to power applications that run on Android and iOS.
Versatility and Scalability
Android Studio's introduction has made the operating system more flexible and adaptable. Also, it integrates with the complete Android Apps ecosystem, such as smartphones, wearables, tablets, and Android TVs. Apart from it, the arrival of the Android studio has made Android apps compatible with emerging technologies such as Artificial Reality, the Internet of Things, and Virtual Reality.
Moreover, the versatility of this Android app platform lets development teams create dynamic mobile apps that serve numerous purposes after one installs them on the device.
Enhanced Security
Another benefit of Android or Android apps' development is the additional security and protection against viruses and malware. Android app has rolled out many other built-in security features.
Customization
Android apps are in demand as Android, an open-source platform, provides developers with full customization features. Also, this operating system helps create versatile Android apps that you can easily integrate into your existing business processes' data management and multimedia tools.
Therefore, organizations use Android apps to increase their reach, multiply their customer base, and accommodate their changing business requirements.
AppsRhino offers the best Tech-driven solutions for Home services, Laundry delivery, Alcohol delivery, Grocery Delivery, Food Delivery, and Taxi Services:
Conclusion
The global mobile app market was valued at 585 billion dollars in 2020 and is anticipated to touch 935 billion dollars by the end of 2022. Developing apps for your business depends on several factors, one of them being your business requirements. The factors determine whether your business will benefit from Android or iOS apps. Also, it is essential to keep the project's timeline and budget before you commence your app development process.
And to excellently culminate your app development process, you need a proficient mobile and web app development company that can provide the proper support to help you reach out to more consumers.
Since the blog has listed the perks of developing Android apps and the future of Android apps, it is advisable to develop Android apps to generate awareness regarding your business. Moreover, you need a competent web and mobile app development company to do justice to your vision, and AppsRhino is the one that can develop your app diligently.
Frequently Asked Questions
Why are Android apps important in the future?
Android apps are important in the future due to the widespread use of Android devices globally. They offer a platform for businesses to reach a vast user base, enhance customer engagement, provide personalized experiences, and tap into emerging technologies such as AI, AR, and IoT.
How do Android apps contribute to business growth?
Android apps enable businesses to expand their reach and tap into the growing mobile user base. They provide opportunities for customer acquisition, brand visibility, increased sales, and improved customer loyalty through features like push notifications, in-app purchases, and seamless user experiences.
How do Android apps revolutionize the user experience?
Android apps revolutionize the user experience by offering convenience, personalization, and accessibility. Users can access various services and information on the go, customize app interfaces, receive real-time updates, and benefit from features like location-based services, voice recognition, and intuitive user interfaces.
What role do Android apps play in digital transformation?
Android apps play a vital role in digital transformation by enabling businesses to embrace mobile-first strategies, optimize processes, and enhance customer experiences. They facilitate remote work, seamless collaboration, data collection, and analysis, thereby driving innovation and efficiency across various industries.
What trends can we expect for Android apps in the future?
In the future, we can expect Android apps to continue evolving with advancements in technologies like 5G, foldable devices, and wearables. Trends such as AI-driven app development, enhanced security measures, and immersive experiences through VR/AR integration will shape the future of Android app development.