If you plan to establish a healthcare app, regardless of whether you already run a medical business or want to launch one, think first about its commercial potential and what it will mean for your efforts and your bottom line. While the COVID-19 pandemic appeared to be a curse for the airline and hospitality industries, it may be a blessing for the healthcare sector in general and health applications in particular, accelerating their growth globally.
The proliferation of mobile apps and smartphones has facilitated the development of several apps to help patients and professionals, which has had a tremendous impact on the healthcare sector.
By the end of the year, the market for healthcare app development is anticipated to be worth $100 billion, with many businesses and individuals looking to hire the top healthcare app development companies.
Healthcare apps include advantages such as streamlining medical procedures and raising patient satisfaction.
This article will explain why developing a healthcare app can benefit your company and why you should consider your options.
Is a Healthcare App a good idea?
The elixir of life has not yet been discovered by science. But the latest medical technology developed by healthcare software corporations is something that today's world is just as fascinating. Mobile healthcare applications could bridge between high-tech sophistication and the demands and routines of ordinary people.
mHealth is a new branch of medicine made possible by the internet, smartphones, and wearable technology. "mHealth" describes wireless and mobile technology applications to deliver healthcare and promote healthy living.
The most well-known example of mHealth technologies is the wide range of fitness and condition-management tools available for mobile phones and tablets. However, numerous complex solutions are available to medical practitioners in the mobile health sector. On the mHealth market, experts divide apps for medical simulators, diagnostic, monitoring, preventive, and treatment into many significant categories.
The market for mobile health applications is expanding quickly. Due to the COVID-19 pandemic, this enormous industry is growing daily and is not showing any signs of slowing down. The quantity of applications and the army of mobile application developers has increased significantly. The amount of money made by the mobile app market has skyrocketed.
It appears that creating a healthcare app is one of the most profitable ventures available right now.
Uses of Healthcare Apps
Let's begin the discussion by understanding the use cases of healthcare apps.
Telemedicine
Patients' interactions with doctors are altering as a result of mobile devices. Using technologies that offer video and phone conversations, the latter can now recommend a course of therapy or a particular operation. After leaving the clinic, patients can download specific apps to their smartphones to continue their recovery at home.
Information gathering
Both patients and medical professionals are increasingly turning to mobile devices to seek information about medicine and healthcare. There are also specialized programs for medical professionals, such as Procedures Consult or PubMed Mobile (a helpful tool for quick searches on PubMed, the top medical database).
Measuring and data monitoring
Your smartphone can communicate with medical devices and monitor your heart rate, breathing rate, sleep, physical activity, and more. According to a Gallup survey, 45% of Americans have used fitness trackers or other smartphone apps in the health and fitness area. Additionally, 20% have experimented with or are now utilizing health and wellness applications.
Appointment and scheduling
A medical facility's patients can more easily communicate with the staff and schedule appointments thanks to a mobile app developed for the facility. Making an appointment or discussing a diagnosis with a doctor over the phone can be awkward for many individuals. They are shielded from this annoyance by a smartphone application.
Education and training
Some mobile solutions make it easier for practitioners, interns, and medical university students to do their work. Doctors have a huge lot of information to remember. They can use mobile apps to update their knowledge or learn new abilities. Medscape Mobile, Human Anatomy Atlas, and Brainscape are the three most well-liked instructional applications for medical students.
Benefits of Healthcare Apps
With the advancement in technology, healthcare apps have a huge potential of impacting the health industry. Here are some benefits that can be cherished, all thanks to the health care apps.
Remote health monitoring system
One significant advantage is the capacity to deploy remote health monitoring devices to improve patient health. These devices were crucial during the COVID-19 epidemic because they allowed medical professionals to continue providing remote patient care. To help consumers manage their health, healthcare apps can also offer various services like consultations and prescription reminders.
Improved quality of healthcare
The capacity to offer patients high-quality services is another benefit of healthcare apps. Healthcare professionals can provide remote patient consultations thanks to contemporary technology like telehealth. By giving doctors thorough patient data, data analysis can also aid in diagnosing patients.
Reduced costs
Medical professionals and patients alike can save money with the use of healthcare applications. The apps allow patients to evaluate the costs of numerous healthcare providers and select the most affordable choice. Healthcare practitioners can also utilize the applications to organize their processes, lowering the need for in-person visits and increasing productivity.
More engaged patients
A further significant advantage of healthcare apps is increased patient participation. Healthcare applications can increase patient satisfaction and loyalty by facilitating easy access to services regardless of a patient's location or time of day. Additionally, it has been demonstrated that using healthcare apps helps clinicians manage their patients more accurately by enabling complete patient records and data analysis.
Empowering patients
By providing patients control over their health, healthcare apps may empower patients. Patients can actively manage their health and well-being thanks to individualized care alternatives and the capacity to monitor their health data.
Improved prescription alerts
Many health apps allow users to set up electronic reminders to remind them to take their medicine, attend specialist appointments, renew prescriptions, and more. Patients now have much more control over their therapy without having to think about missing a session.
Offers customers with a better experience by eliminating a significant amount of tedious and repetitive administrative work and sending automated reminders.
Enhanced data management
Every day, healthcare organisations handle enormous amounts of personal data. Consequently, it needs to be organised correctly. Healthcare apps that are integrated with EHR automatically capture important patient data from wearables or other connected system devices. This makes it possible for healthcare practitioners to compile thorough patient profiles and meet HIPAA requirements.
Hassle-free payments
In the past, paying bills was a laborious procedure that involved patients as well as hospital staff. People no longer have to spend hours in line just to pay for healthcare services thanks to mobile apps. Users can make instant payments safely with just a few taps thanks to the app's integration of a highly secure payment gateway. Additionally, they can choose their chosen payment method, pay online (using a debit or credit card), and, if necessary, connect with their insurer via apps.
To make the most of these benefits, it's essential to get your healthcare app developed in the right way. For this, you can opt for AppsRhino- your partner in healthcare app development.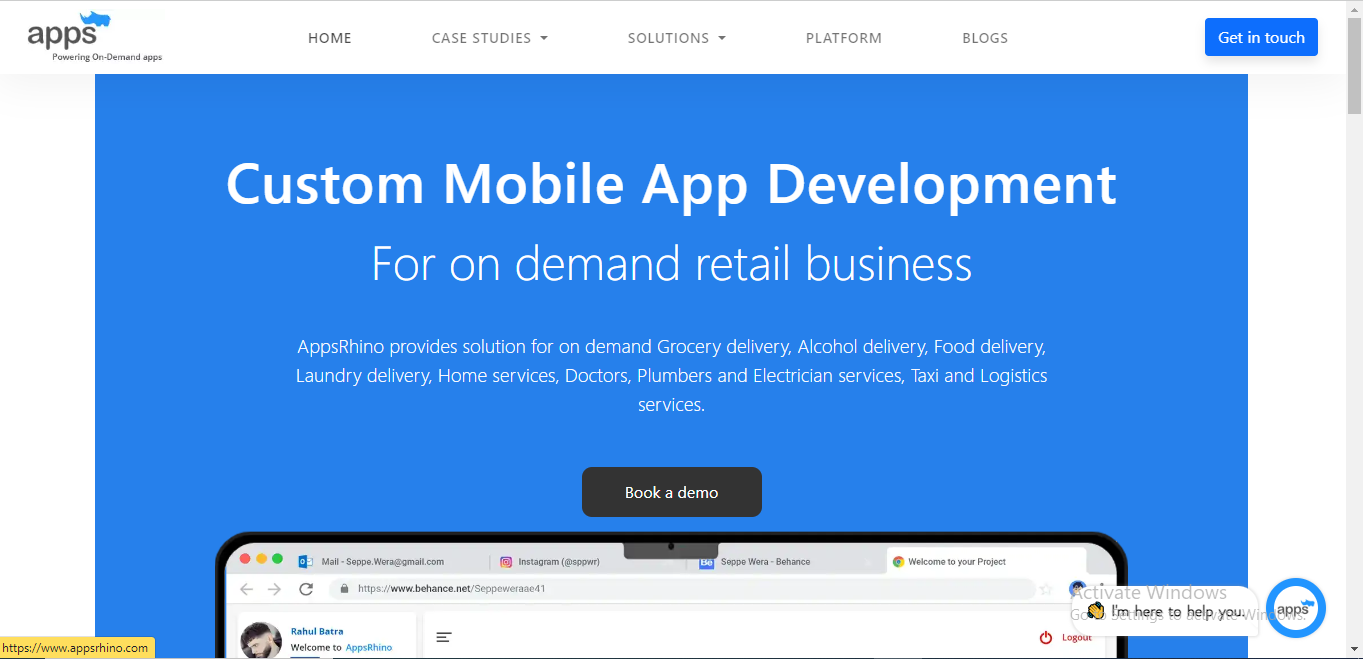 Apart from custom mobile app development, AppsRhino offers the best Tech-driven solutions for Home services, Laundry delivery, Alcohol delivery, Grocery Delivery, Food Delivery, and Taxi Services:
Mobile healthcare market tendencies
According to data, consumers are concerned about their physical and mental health, making the most downloaded health and lifestyle apps in the App Store and Google Play the traditional fitness apps like MyFitnessPal and meditation apps like Calm and Headspace.
Healthcare apps have the propensity to expand in variety. Compared to roughly five years ago, when most healthcare apps were "lightweight" everyday solutions like fitness apps, we are now seeing the emergence of more complex applications with a more focused focus.
Telemedicine is a significant development in global healthcare. We may anticipate a swift rise in applications that let patients consult doctors remotely for advice and care shortly.
According to Allied Market Research, blood pressure monitors are the most common mobile health equipment, with blood glucose meters displaying the quickest growth rates. The monitoring services market is the most well-known among the services.
Conclusion
The market for healthcare application development will only grow as smartphones gain popularity among people from all walks of life. As this industry grows and prospers, it will likely face unique challenges.
No matter how challenging the road ahead may be, a consistent stream of investment encourages innovation and attracts the most talented workers. As the industry develops at a dizzying rate, we may imagine a future in which everyone picks personalized healthcare applications, and pre-built ones may only have a limited market share.
As the advantages of healthcare apps are numerous and will only increase over time, healthcare development will be a boon for the company.
To get your healthcare app up and running, get in touch with AppsRhino immediately. With a committed developer and thorough support, we work hard to be effective.
Frequently Asked Questions
Why does my healthcare business need an app?
Having a healthcare app enhances patient engagement, allows convenient access to services, facilitates appointment scheduling, provides health information, enables secure communication, streamlines administrative tasks, and boosts overall efficiency in delivering healthcare services.
Can a healthcare app improve patient-provider communication?
Absolutely! A healthcare app enables secure and direct communication between patients and providers, ensuring quick access to medical advice, test results, follow-up care instructions, and reducing the need for in-person visits for minor concerns.
Is data security a concern for healthcare apps?
Data security is a top priority for healthcare apps. Implementing robust encryption, user authentication, secure storage, and compliance with privacy regulations ensures that patient data remains protected and confidential.
Can a healthcare app help attract new patients to my practice?
Yes, a healthcare app can be a powerful marketing tool, attracting new patients by offering convenient access to services, positive patient experiences, online appointment bookings, patient reviews, and easy sharing of the app with others.
How do I get started with developing a healthcare app for my business?
To get started, research and select a reputable app development company with expertise in healthcare. Work closely with them to define your requirements, design a user-friendly interface, ensure data security, and launch a tailored healthcare app for your business. One such option for healthcare app development is AppsRhino.