In recent years, the healthcare field has witnessed a significant transformation with the advent of telemedicine and virtual healthcare services.
One notable player in this arena is Teladoc Health, which is an app that enables patients to consult with healthcare providers remotely, anytime, and anywhere.
This innovative approach to healthcare delivery has sparked a heated debate: Are apps like Teladoc the future of healthcare?
Gone are the days when patients had to wait for hours in crowded waiting rooms or travel long distances to see a doctor.
With the rise of telemedicine apps, patients can access quality medical care with just a few taps on their smartphones.
This convenience factor, coupled with technological advancements, has led to a proliferation in the popularity of virtual healthcare services.
However, as with any new development, advocates and skeptics exist.
In this blog, we will talk about whether or not apps like Teladoc Health are the future of healthcare. Keep reading to learn more!
What is Teladoc Health?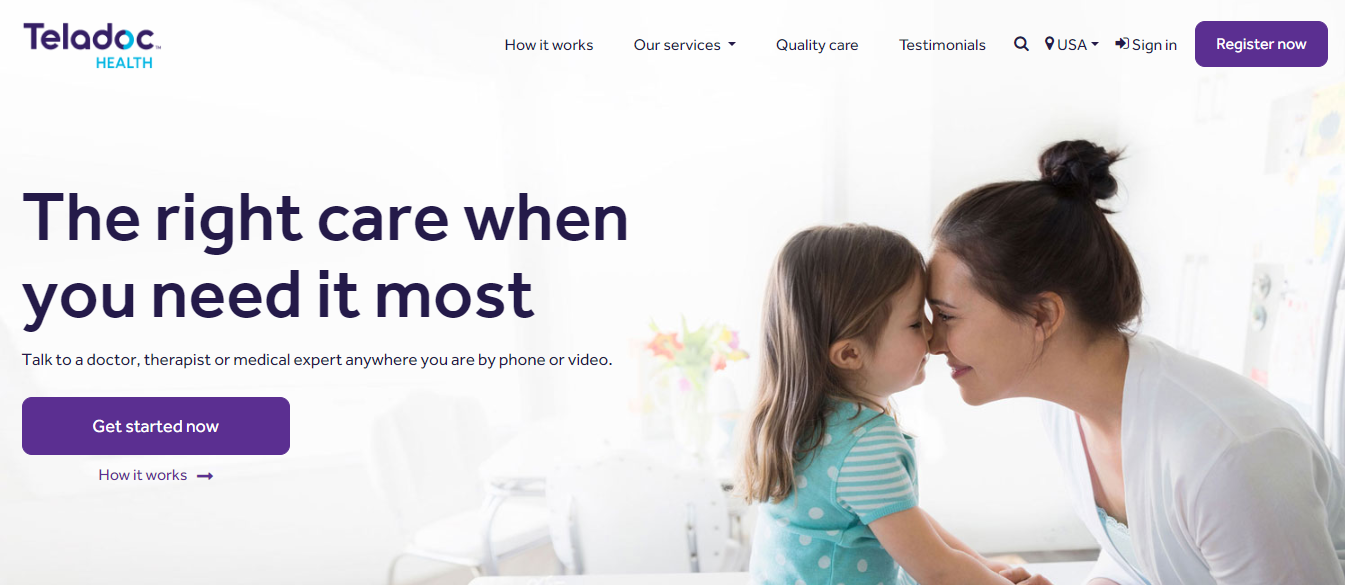 Teladoc Health Inc. is a multinational healthcare corporation established in 2002 and based in the United States.
Their mission is to provide virtual care, offering reliable medical knowledge and technology for connections that advance universal health.
Their approach is based on a simple but powerful principle: everyone should be able to access the best medical services whenever and wherever they need them.
They are now fulfilling this purpose by providing virtual care that covers primary care, mental health, chronic condition management, and more.
Teladoc Health uses mobile apps, phone and video conferencing software, and other technologies to offer on-demand remote medical treatment.
Their employees are more committed than ever to leveraging their position as a major corporation to provide equitable access to healthcare.
Their ultimate goal is to create a community where everyone has the opportunity to achieve their optimal level of health.
Teladoc Health is leading the way in virtual care by offering reliable medical knowledge and technology for connections, which has become even more crucial in our current world.
What is Teladoc for?
If you want healthcare that's easy to access and convenient, Teladoc might be an excellent choice for you.
It's perfect for those who don't want to go to a physical appointment or those who have a busy schedule and can't attend an in-person appointment.
Plus, Teladoc offers appointments 7 days a week, so you can choose the timing that works best for you.
It's also essential to remember that Teladoc is only for non-emergency services. If you have a medical emergency, it's crucial to go to an emergency room immediately.
Overall, Teladoc can be an excellent choice for accessible, convenient healthcare.
It's ideal for people who don't want to leave their homes or office for appointments and those who have trouble finding time for in-person visits.
What are the services provided by Teladoc Health?
Teladoc Health is a renowned healthcare provider offering various medical services to its customers.
One of the unique features of Teladoc is that only licensed or board-certified healthcare professionals treat patients.
Given below is a list of the medical services offered by Teladoc Health:
General Medicine
Teladoc Health provides 24/7 medical care for non-emergency ailments like the flu, allergies, pink eye, stomachaches, sinus infections, and more.
Primary360
Patients can contact physicians for routine checkups, ongoing wellness requirements, and referrals.
Mental Health
Through phone or video, online counseling is available for adults and teenagers to help manage depression, anxiety, stress, loss, grieving, addiction, and more. Mental health professionals are available seven days a week.
Specialist & Expert Opinion
Dermatology: Patients can receive a personalized treatment plan within two days from a dermatologist. The doctor treats various skin conditions like eczema, psoriasis, and acne.

Expert Medical Opinion: Patients can request the opinion of a renowned expert on an existing medical issue or guidance on their healthcare issues, such as heart disease, cancer, surgery, and more.

Local In-person Care: If local in-person care is required, patients can get assistance in locating suitable providers.
Wellness Care
Nutrition: Patients can consult a certified dietician to manage weight or treat diabetes or high blood pressure.

Tobacco cessation: Patients can get assistance from a health consultant to help them quit tobacco addiction, including a 24/7 hotline and medicines (if necessary).

Joint and Back Care: Patients can quickly connect with a health coach to receive a customized program, including workout videos.

Sexual Health: Patients can request a lab order online for sexually transmitted diseases (STDs) without visiting a clinic.
In a nutshell, Teladoc Health offers a vast range of medical services that provide convenient and accessible healthcare to its customers.
Whether it's general medical issues or specialized medical needs, Teladoc Health has something for everyone.
Benefits of using the Teladoc app
Listed below are some key advantages of using the teladoc healthcare app:
Simple User Experience
Teladoc offers patients the convenience of connecting with care professionals from anywhere, at any time, through multiple modes of communication, including phone, video, or the Teladoc health app.
This ensures an easy user experience and allows patients greater flexibility in scheduling appointments and accessing care.
Pharmacist Connections
In addition to the ease of connecting with healthcare professionals, Teladoc patients can have their prescriptions forwarded to a nearby pharmacy.
Patients can easily order medications and other pharmaceutical drugs through this partnership, ensuring they have access to the necessary treatment.
Treatment For Various Ailments
The Teladoc app provides patients with a one-stop destination for treating many conditions, including but not limited to the flu, cough, sore throat, pink eye, back pain, rash, arthritis, food poisoning, and more.
Depending on their needs, patients can schedule visits with physicians and experts specializing in these conditions, providing comprehensive care and treatment.
Assistance for All
Teladoc offers patients access to various healthcare experts who assist more than 70 million members worldwide with their daily healthcare needs in over 40 languages, including American Sign Language (ASL).
This ensures patients from diverse backgrounds and communities can access the care they need and receive support and guidance.
Reduced Cost of Care
One of the key advantages of Teladoc is the reduced cost of care for patients.
With fewer unnecessary trips to the doctor's office, patients can access high-quality treatment from anywhere at half the cost of traditional in-person care.
This makes healthcare more affordable and accessible to a broader range of patients.
Reliable Clinical Care
Teladoc provides reliable clinical care through board-certified doctors accessible via phone, video, or the app.
The specialists at Teladoc are committed to giving their patients top-of-mind virtual care, ensuring that they receive the necessary treatment and support for their specific condition.
24/7 Accessibility to Physicians
Teladoc provides patients with 24/7 access to affordable, top-notch doctor appointments for various ailments, including nutrition, mental health, and physical care.
This ensures that patients can receive care and support anytime, regardless of location or time zone.
This can significantly benefit patients requiring urgent or emergency care outside regular business hours.
Conclusion
In conclusion, Teladoc Health is leading the telehealth industry with its valuable and reputable services.
With over 13 million members, a team of licensed doctors, and mental healthcare specialists, the company aims to make virtual care the first stop on every patient's journey.
Teladoc is continuously improving the quality of care for its patients and expanding the reach of care providers through innovative technology.
With the telehealth sector rapidly expanding, now is the perfect time for entrepreneurs or start-ups to penetrate this industry.
So, it's safe to say that apps like Teladoc are the future of healthcare.
If you want to create a distinctive and personalized on-demand app like Teladoc Health, AppsRhino can help bring your idea to life.
With AppsRhino, you can create a custom mobile app tailored to your business needs without technical expertise or coding skills.
Our user-friendly platform allows you to design, develop, and launch your own app in just a few simple steps.
Moreover, our app development process is highly customizable and scalable, ensuring you receive a mobile app that perfectly aligns with your business objectives.
So, what are you waiting for?
Contact AppsRhino today and make a difference in the healthcare industry!
Frequently Asked Questions
What are telemedicine apps like Teladoc?
Telemedicine apps like Teladoc provide virtual healthcare services, allowing patients to consult with doctors remotely through video calls or chat platforms.
How do telemedicine apps work?
Telemedicine apps connect patients and healthcare professionals through secure digital platforms, enabling remote consultations, medical advice, diagnosis, and prescription services.
What are the benefits of using telemedicine apps?
Telemedicine apps offer numerous benefits, including convenient access to healthcare, reduced travel time and expenses, faster medical consultations, increased flexibility, and improved healthcare accessibility for remote or underserved areas.
Are telemedicine apps secure and private?
Telemedicine apps prioritize patient privacy and employ robust security measures to ensure confidentiality of medical information, such as secure data encryption and compliance with healthcare privacy regulations.
What medical conditions can be treated through telemedicine apps?
Telemedicine apps can be used to address various non-emergency medical conditions, such as minor illnesses, routine follow-ups, mental health consultations, dermatological issues, prescription refills, and general medical advice.
Is telemedicine as effective as in-person healthcare visits?
Studies have shown that telemedicine can be as effective as in-person visits for certain conditions. However, the suitability of telemedicine depends on the nature and complexity of the medical issue, as well as the patient's preference and the doctor's assessment.
Are telemedicine services covered by insurance?
Many insurance providers now cover telemedicine services, although coverage policies may vary. It is advisable to check with your insurance provider to determine the extent of coverage for telemedicine consultations.