Introduction
Are you busy with no time to look after your health? Did you miss your appointment because of your swamped schedule? Do you suffer from mental health issues but do not want to step out of your house to seek treatment? Does your area not have the best healthcare professional near to your locality?
If you face a related issue, you have your savior right here. The savior is Teladoc. The Teladoc app was rolled out in 2005 and is, even today, the number one provider of online medical visits in the United States of America. It boasts more than 3600 licensed healthcare professionals in all 50 states. Besides possessing proficient healthcare professionals, it offers services in different specialties from primary care to dermatology and psychiatry. Moreover, Teladoc operates round the clock. If you want to know more, read the blog and see for yourself.
What is Teladoc Health?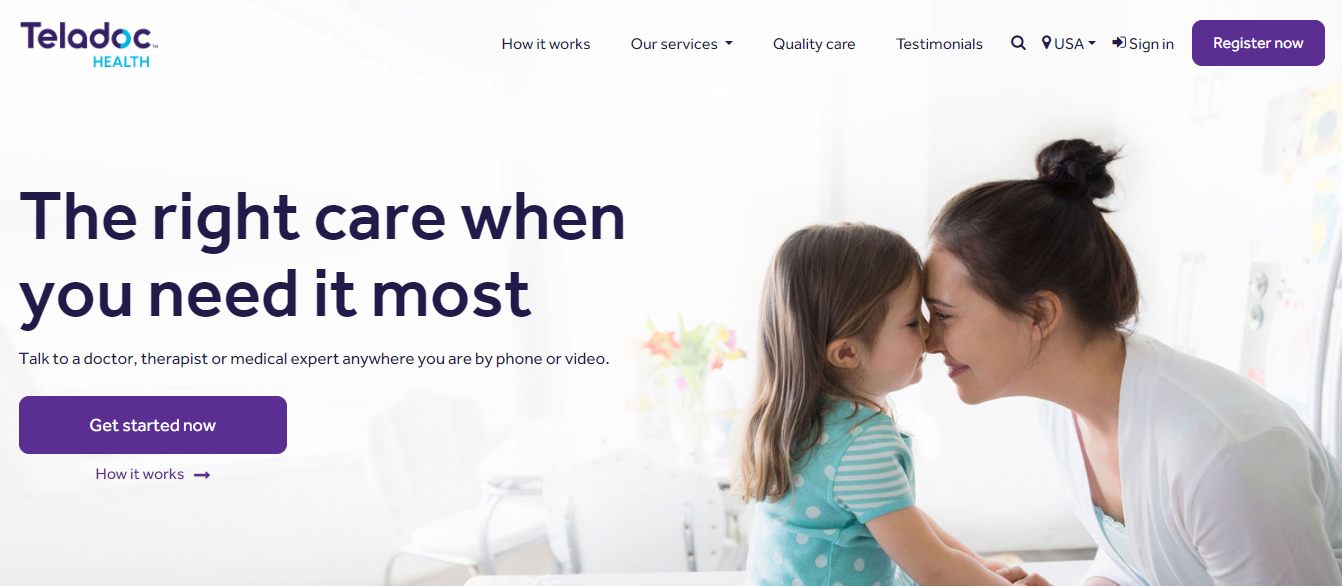 Today, telehealth services abound, and one such service connecting patients to doctors is Teladoc. This service is only available in the United States of America and Canada. Teladoc's parent company is named Teladoc Health, Inc, and handles many virtual health providers in 130 countries.
Users can conduct consultations through video calls and phone with their app; however, the services they enjoy vary by state. Another thing that changes is the costs of Teladoc services. The money one needs to spend depends on the user's health plan, insurer, or employer.
You will find the following categories of services on Teladoc:
Wellness and Prevention

Everyday Care

Medical Experts

Mental Health services

Children and Family
Let us now read more about the services of the Teladoc app.
What services does the Teladoc app provide?
The Teladoc app provides numerous healthcare services that belong to the following five categories:
General Medical

Primary360

Mental health

Specialists and Expert Opinion

Wellness Care
Only licensed or board-certified healthcare professionals provide the services mentioned above.
General Medical
Users will find themselves in a position to spend 75 dollars on this type of Teladoc therapy without insurance. However, those with insurance pay anything from $0 and up. They can schedule a general medical visit without insurance, and Teladoc accepts FSA and HAS accounts. This type of Teladoc therapy provides around-the-clock services for non-emergency conditions such as:
Sore throat

Cold

Allergy symptoms

Flu

Sinus infections
Primary360
The price of this type of Teladoc therapy depends on your insurance plan. Employers and health plans may offer Teladoc coverage. Thus, you must check your plan to know which services they cover.
Primary360 acts as a bridge between you and a primary care doctor of your choice and lets you interact with them via video calls and phones. Due to this service, users can develop a relationship with a specific doctor and access routine care and check-ups for chronic conditions.
Mental Health
Under this category, users receive therapies ranging from 0 to 99 dollars, and they need to pay somewhere between 0 and 299 dollars for their first psychiatry visit. However, after users get insurance, they just pay from $0 to $119 for subsequent visits.
People need to check their plans to see which services are covered. Licensed therapists and psychiatrists provide treatment for the following symptoms and health conditions:
Depression

Anxiety

Substance use disorders

Trauma

Stress

Post-traumatic stress disorder

Relationship conflicts
Specialists and Expert Opinion
The price of such Teladoc therapy depends on the insurance plan that one has. Users need to check their plans to see which services are covered by their employers and health plans. This type of Teladoc health therapy provides you access to over 50000 licensed healthcare professionals in over 450 specialties, a few of them being as follows:
Dermatology

Cardiology

Oncology

Rheumatology

Gastroenterology

Pain management
Wellness Care
The prices vary according to services and insurance coverages. This type of Teladoc Health service accepts insurance and deems FSA and HSA eligible.
It includes the following:
Neck and back care

Nutrition

Sexual health

Quitting smoking
Who is Teladoc for?
The Teladoc app is for those who desire convenient and accessible healthcare. Also, those who do not like to go to an in-person appointment or can not do so due to a swamped schedule can use this Teladoc app. You do not even need to worry about the day when you want to seek help, as Teladoc provides appointments seven days a week. Other than these people, those who grapple with mental health issues can also use the app to get the necessary treatment.
There are a few things you need to bear in mind before you use Teladoc. Users must have consistent access to the internet and own a computer or smartphone to access the Teladoc health platform.
Another thing to pay attention to is that Teladoc is for treating non-emergency services. Calling 911 or visiting an emergency room is always advisable if you have a medical emergency.
What does Teladoc treat?
We have already listed the things for which Teladoc provides care. Even though there are numerous things for which Teladoc can provide help and is excellent at treating, it is firmly made clear that one should not resort to Teladoc to deal with emergencies or severe health conditions. People must understand that calling 911 or visiting an emergency room is always the best solution in dire circumstances.
Also, if Teladoc cannot treat your conditions, it will refer you to another doctor to let you receive the treatment you deserve.
How does Teladoc work?
Are you interested in using Teladoc and want to know how to use it? Do not worry, as this section tells you how Teladoc works.
As soon as users sign up with Teladoc, they can browse available services with their respective charges. However, the individual prices are ultimately based on your insurance, health plan, or employer. The prices of the Teladoc health services you come across in the reviews or blogs on the internet are not exact. The fees that you end up paying might be less than what was quoted because of what your health insurance/ plan covers. You will be required to pay less if it covers a large proportion.
HSA, FSA, and health insurance
Teladoc works with several employer health plans and insurance companies. Thus, a person should submit this information when they head to sign up to help Teladoc determine which services are covered for you and your copay.
If someone wants to make FSA and HSA payments, they can go ahead as Teladoc accepts these payments.
How can you use Teladoc?
Let us now see how you can use Teladoc. Those interested in using Teladoc or the Teladoc app can do it easily by heading to their official website and going through some beneficial videos to guide you through this process.
Users must set up their free accounts on the official webpage or the Teladoc app, add dependents or family members if appropriate, and fill out the complete medical history form.

Then users need to submit a visit request and select when they want to see the concerned doctor. They can also include details of your current issues and pictures to help doctors diagnose your ailment correctly. Another thing you must confirm is your preferred pharmacy.

Now Teladoc connects users with the first available and suitable doctor licensed in their states. Also, users can't request to see the same physician again, except for those users who grapple with mental health issues.

After users submit all the required details, they receive a notification via the app or email about when the appointment is scheduled. Users should always open their Teladoc apps ten minutes before their scheduled visits and ensure they have a good signal.

Another thing they should know is that users will be alerted when the doctor reviews their medical history before their visit.

Users must also check that they have not blocked unlisted numbers, as their doctors will only call them from an unlisted number. And there is no limit for the video/ phone consultation.

As soon as the consultation ends, users/ patients will receive a summary of the entire visit. This summary also includes medications the doctor prescribed and a customer satisfaction survey.

Another thing that happens during or after the consultation is that if your doctor deems you need medication, they will send the prescription to your preferred pharmacy.

The last thing that Teladoc does is send an Electronic Health Record to users' physicians if deemed necessary, and it does so only after seeking your consent.
How much does Teladoc cost?
Let us now see how much Teladoc cost below.
General medical consultations are worth around 75 dollars.

Dermatology reviews can cost based on your details.

Even the cost of mental health visits depends on users' details.
Note: Your Teladoc price varies according to your insurance plan and the type of services you want to receive. And if you want to see the specific costs of treatments, you will need to sign up for a Teladoc account and type in your insurance plan.
AppsRhino offers the best Tech-driven solutions for Home services, Laundry delivery, Alcohol delivery, Grocery Delivery, Food Delivery, and Taxi Services: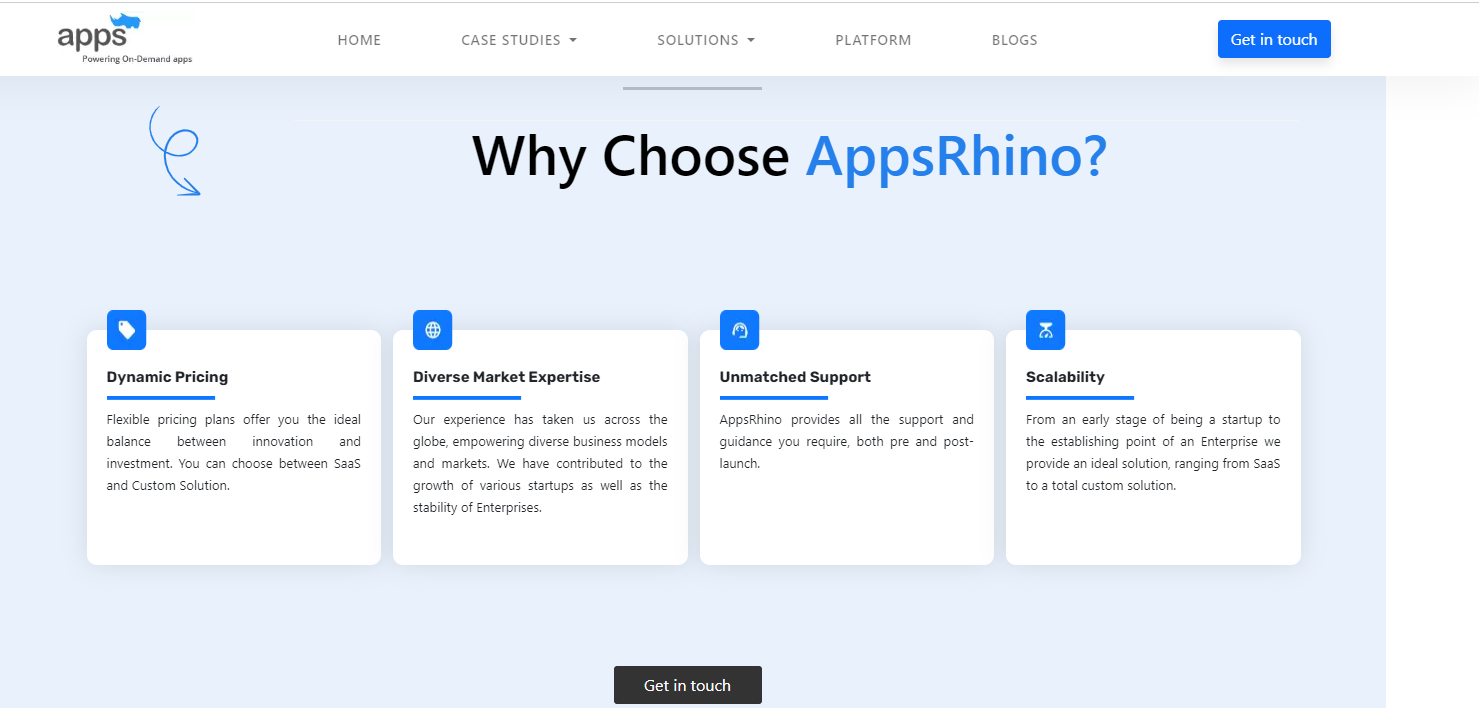 Conclusion
Teladoc is the largest, oldest, and most esteemed tele-physician provider in the United States of America and dominates the Tele physician marketplace. It boasts more than 13 million members nationwide and around 3000 state-licensed physicians and behavioral healthcare professionals. Teladoc also can scale and support more than 100 million customers.
If you have difficulty reaching the right medical caregiver, do not fret, as the right medical professional will treat you, thanks to the online consultations provided by Teladoc. And those with busy schedules can also avail themselves of Teladoc therapy!
Entrepreneurs who intend to venture into the healthcare industry should get an app to connect to their patients. A carefully crafted app does wonder to one's organization, and the best place to get your apps developed is AppsRhino. Contact us right away!
Frequently Asked Questions
What is Teladoc?
Teladoc is a telehealth platform that allows individuals to consult with healthcare professionals remotely via phone or video calls.
How does Teladoc work?
Teladoc works by connecting patients with licensed doctors who can provide medical advice, diagnose common conditions, prescribe medication, and offer treatment recommendations remotely.
What are the benefits of using Teladoc?
Teladoc offers several benefits, including convenient access to healthcare professionals, reduced wait times for appointments, cost savings, and the ability to seek medical advice from the comfort of your home.
What types of conditions can Teladoc address?
Teladoc can address a wide range of non-emergency medical conditions, including minor illnesses like colds, flu, allergies, skin rashes, and urinary tract infections. It can also provide support for mental health concerns.
Is Teladoc suitable for all age groups?
Yes, Teladoc can be used by individuals of all age groups, from infants to the elderly. It provides access to pediatricians for children and specialized care for seniors.
How can Teladoc improve my health?
Teladoc improves health by providing timely access to medical professionals, enabling early intervention and treatment for conditions. It can also enhance preventive care and provide valuable medical guidance.
Are the Teladoc consultations confidential?
Yes, Teladoc consultations adhere to strict privacy and security protocols to ensure the confidentiality of patient information. Your health information is protected and treated with the utmost privacy.