Online medical treatment is offered via the telemedicine and virtual healthcare platform Teladoc. Customers can consult licensed doctors regarding non-emergency dermatological, mental health, and psychiatric disorders and get drug prescriptions remotely.
Teladoc's business strategy is centered on customers subscribing yearly or monthly. Individuals also charge a flat fee for appointments.
Physicians who consult with Teladoc are paid per consultation.
The company, established in 2002, has developed into one of the biggest brands in virtual healthcare in the U.S. Its projected market share for 2016 was 75%.
It was included in a merger with Livongo, an Applied Health Signals business, in 2020. Its anticipated 2020 revenue was put at about $1.3 billion.
What is Teladoc?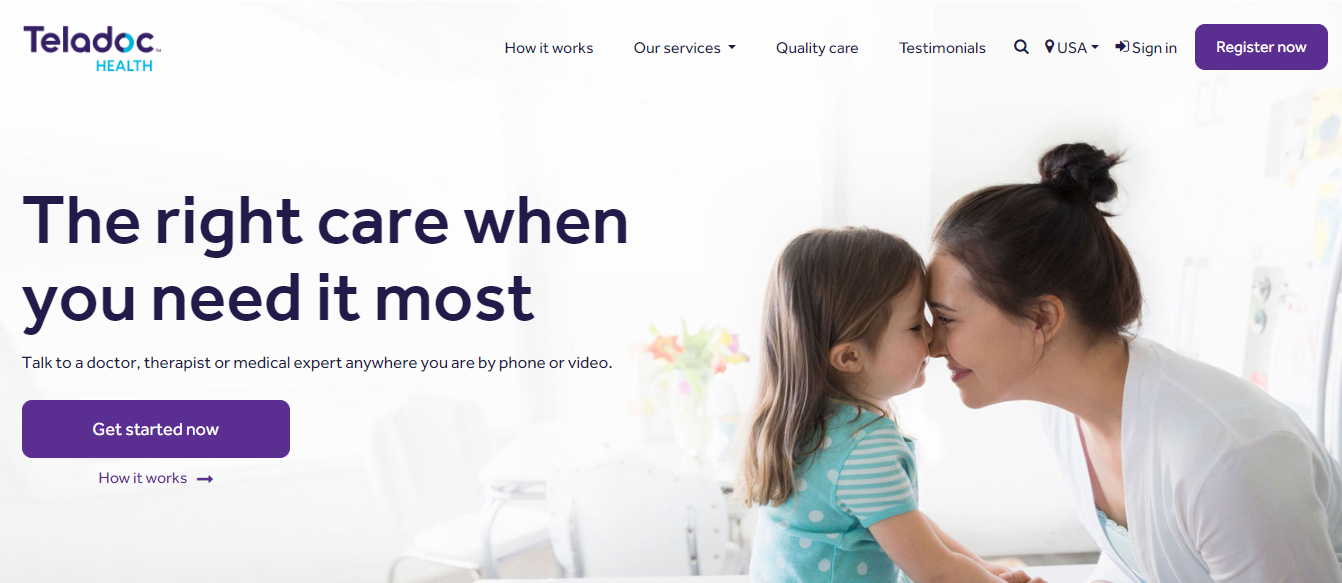 The biggest virtual healthcare provider in the U.S. is Teladoc. It provides services based on A.I., analytics, virtual care programs, telehealth equipment, and virtual medical consultations with state-licensed physicians.
Through the Teladoc website or mobile app, users have open access to doctors who are board certified. Thanks to the platform, individuals can avoid waiting periods for surgeries or clinic visits while saving money on logistics. Customers may include the service as a crucial component of their compensation package.
Teladoc serves more than 170 countries and has over 50 million subscribers and 12,000 clients. Over 55,000 medical specialists from 450 subspecialties, including 3,100 licensed doctors, make up its network.
Since its inception, the company has expanded to work with over 70 worldwide insurance companies, healthcare providers, and health delivery organizations.
How does Teladoc work?
Teladoc uses its website and mobile app to connect you with licensed physicians. Users create an account, enter basic information, and finish a survey about their medical history. The survey gives doctors the data they need to diagnose you and offer effective treatment correctly.
Users can request a "visit" through an account. If other people share an account with you, you can act on their behalf and your own. Users from the United States must decide which state they will be in throughout the consultation time.
You can contact a doctor in that location via Teladoc's platform. A consultation can be scheduled over the phone or via video. Additionally, you can upload photos beforehand (for visual symptoms) and choose when you want the appointment to start. Payment alternatives will be presented if you still need to become a paid subscriber.
The focus of consultations is on non-emergency situations. Your local E.R. hospital will be recommended if the consulting doctor determines that your illness is serious. Your preferred neighborhood pharmacy will receive any medications you receive.
Depending on the benefit plan for the users, consultation fees change.
Benefits of using Teladoc
A telemedicine platform called Teladoc enables patients to communicate with doctors over the phone, video, or Internet. This ground-breaking service has become incredibly well-liked over the years and has shown to be advantageous for both patients and healthcare professionals. The following are a few advantages of utilizing Teladoc:
Accessibility
People who live in remote or rural areas, where there may be a shortage of healthcare providers, can easily access healthcare services thanks to Teladoc, one of the service's main advantages. Patients can quickly consult with doctors without leaving their homes. It is convenient for those who suffer from impairments or chronic illnesses.
Convenience
Patients no longer need to make appointments or sit in busy waiting areas thanks to Teladoc. Patients can quickly schedule an appointment with a doctor by logging into the Teladoc app or website. People with busy schedules who find it challenging to take time off from work or school to see a doctor find this especially helpful.
Cost-effective
Teladoc is a more affordable option than regular in-person consultations. Patients can cut costs on travel, parking, and other expenses incurred while going to the doctor in person. Teladoc provides inexpensive subscription plans that can help patients save money over time.
It has been demonstrated that Teladoc improves health outcomes by giving people prompt access to medical care. When patients notice symptoms, they can consult a doctor to stop their diseases from worsening. Teladoc can assist patients in managing chronic conditions by offering continual support and supervision.
Increased patient satisfaction
Teladoc's ability to offer a practical and user-friendly platform for healthcare services has been demonstrated to boost patient satisfaction. Patients don't have to wait hours or days to visit a doctor because receiving medical treatment is simple. Teladoc also allows patients to pick the doctors they want to see, fostering confidence and enhancing the patient-doctor connection.
Teladoc has many advantages for both patients and medical professionals. It makes healthcare services accessible, enhances health results, and boosts patient happiness. Teladoc is a cutting-edge response to the problems the healthcare sector is facing and has the potential to change how we receive medical care altogether.
The Business model of Teladoc
Value Propositions
The value proposition for members
On-demand care: Without the hassles of travel and waiting hours, Teladoc provides its Members with access to high-quality, on-demand care every day, all year round.

Access to high-quality physician network: Through a long-term services agreement with Teladoc Physicians, P.A., or Teladoc PA, a business organization that gives Teladoc access to telehealth services, Teladoc has secured the benefits of its providers.

Cost-efficient care: Teladoc provides significant discounts to its members, which is substantial as companies and health plans shift costs to budget-conscious customers.
The value proposition for clients
Proven return on investment:

Teladoc

provides clients with significant ROI and cost-saving options.

High-quality care: The solution from Teladoc is supported by evidence-based clinical recommendations (created explicitly for telehealth) that help Providers, and Members make decisions and meet criteria for diagnosis, management, and treatment.

Consumer engagement: By identifying Members who are most likely to use its product, Teladoc can raise Member adoption, boosting ROI for clients.
The value proposition for providers
Meaningful income: Teladoc offers the convenience of rapid access to new patients without the administrative burden, empowering doctors and other healthcare professionals.

Enhanced work flexibility and productivity: Teladoc provides control and scheduling flexibility so medical practitioners can choose when and where to practice. Providers for Teladoc are available for work on weekends, holidays, and while on the road.

Significantly reduced administration: With no paperwork or claims forms to fill out and no office to operate, Teladoc's supportive business model enables doctors to concentrate on providing top-notch patient care.
Customers and clients
Employers (including almost half of the Fortune 500), health plans, hospitals, health systems, insurance and financial services firms (collectively "Clients"), as well as individual members, make up Teladoc's clientele.
The solutions from Teladoc are purchased by its clients to increase their constituents' access to convenient, inexpensive, and high-quality healthcare and to lower their healthcare costs. Teladoc sells to its Clients directly on a B2B basis on behalf of their beneficiaries, such as employees and health plan participants.
In addition to B2B, Teladoc also provides direct-to-consumer (D2C) healthcare services to individuals, most notably through its BetterHelp brand and alliances with other reputable companies.
More than 12000 customers use Teladoc in 175 nations. Although Teladoc counts health plans as clients, it also uses them as a means of distributing services to self-insured employers who sign agreements with the business.
As of 2021, Teladoc's healthcare and knowledge were available to approximately 53.6 million distinct paying members and 24.2 million visit fee-only users through various integrated channels.
Sales and marketing strategy
Teladoc's direct sales staff, which comprises sales experts with an enterprise focus, offers its services primarily.
Teladoc keeps in touch with important industry players, brokers, group purchasing organizations, health insurance, consultants for benefits, and hospital partners. Through its marketing strategy, Teladoc produces Client leads, quickens sales opportunities, and increases brand recognition.
In addition to targeting technology and healthcare professionals, senior business leaders, and healthcare channel partners, Teladoc's marketing strategy aims to reach human resource, benefits, and finance executives.
To educate potential members about the firm and its solutions and offer learning opportunities, Teladoc's marketing strategy makes use of its website. It also runs integrated marketing campaigns and participates in trade exhibitions, conferences, and events in the sector.
The revenue model of Teladoc
Teladoc's revenue increased 86% from 2020 to $2.03 billion in 2021. To give Members access to Teladoc's professional Provider network of physicians, therapists, and specialists, Teladoc charges access fees on a per-member-per-month ("PMPM") basis.
Its clients pay access costs for its staff, dependents, policyholders, cardholders, beneficiaries, and physicians. In some cases, however, such as with some of its subscribers, members pay payments directly. In 2021, access fees comprised over 85% of Teladoc's revenue.
In addition to access fees, Teladoc also receives income from visit fees. For contracts where the service is not included in access fees, Teladoc charges a visit fee for general medical visits, expert medical services, and other specialized visits. In 2021, visit fees made up 13% of Teladoc's income.
In addition, Teladoc generates revenue through the sale and lease of equipment, including robots, carts, and tablets, as well as from the health system and provider Clients associated with its licensed technology platform.
Conclusion
A barometer of shifting socioeconomic problems in the healthcare systems is telemedicine. It serves as a tool for assessing present issues and emerging trends and patterns in the healthcare sector. Its importance in deploying healthcare resources, improved demand management, and fewer hospital visits for a productive and sustainable healthcare system only add to its reputation.
By developing a Teladoc Clone, you may participate in the future of telemedicine. Are you aware of where to begin? Speak with AppsRhino! Your hopes for application development can come true with the help of our team!
Contact us today to get started!