People increasingly purchase important basic commodities like clothing, food, and even furniture online. People used to buy furniture, such as a sofa or a bed, solely after seeing and experiencing it. The thought process was that they believed it was necessary to "try" the product before purchasing it. When you buy a bed, you lie down on it. When you buy a sofa, you sit on it. Going to the store and checking the items you intend to purchase is the most effective determining comfort and quality. Despite this caution, online furniture stores are growing and have become profitable.
Furniture sales have proven to be one of today's most profitable eCommerce segments. Numerous market participants, such as the real estate industry, interior design, and primary consumer wants, contribute to the market's persistent and continuous demand. On the other hand, advancements in technology, eCommerce platforms, warehousing, and logistics have made starting an online furniture store more effortless.
Summary
Do you sell furniture and want to grow your business? Or are you a self-employed furniture manufacturer who enjoys art and wants to make a career from it? If you answered "yes," it's time to become your boss and open an online furniture company.
With an increase in the popularity of internet purchasing, the furniture business lags far behind other industries.
The market is vast, and your internet furniture firm has the potential to be a significant success.
Following are the steps in brief to start an online store:
Select a niche
Market Analysis
Purchasing Furniture
Website
Mobile App
Find delivery partner
Branding Promotions
Selling via a Third Party
Statistics on the Furniture Retail Market
Starting a furniture store is a profitable venture. Creating only one online furniture store is a better business potential. Let's look at the current market statistics for this company category to understand how profitable an online furniture store could be.
The furniture industry's expected revenue in 2018 in the United States is roughly $304.3 billion. According to the data, things will only get better in 2019.

From 2018 through 2021, the furniture market will expand by 0.2 percent per year.

The furniture industry already has a massive base of $304.3 billion. A "modest" growth rate of 0.2 percent results in an additional $60 billion in revenue.
Advantages of establishing an online furniture store for your company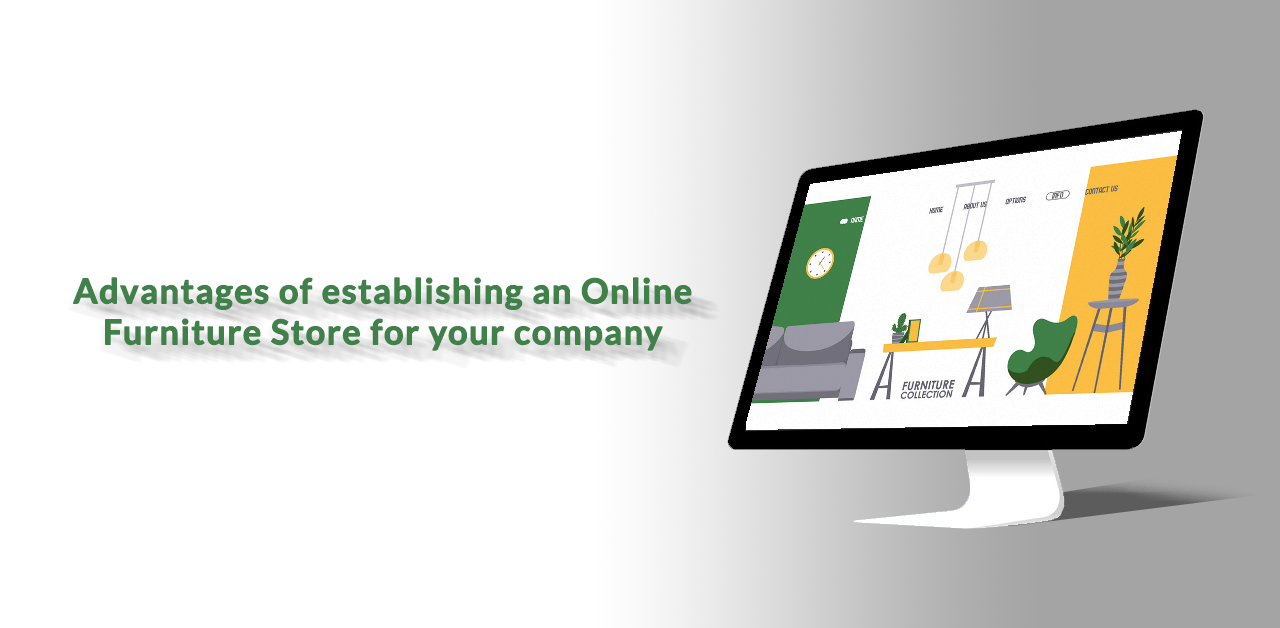 https://drive.google.com/file/d/1veIRxZ6O5nXlzI_loW9y8B2xNmndhQ_l/view?usp=sharinghttps://admin.appsrhino.com/adminCreating an online furniture store might give you a piece of this lucrative sector. Some of the benefits of having an online furniture store are listed below:
Getting to the global market
A physical store can only market to clients within a certain radius of its location. A well-established neighborhood store might be in business for many years. However, due to their incapacity to develop and sell their items to a larger audience, many stores will remain tiny. Opening an online furniture store will allow you to scale your business to levels rarely attained by physical stores.
Compete with larger firms by remaining open 24 hours a day, seven days a week.
Physical stores are rarely open 24 hours a day, seven days a week. Except for convenience stores like 7-11, retailers are open from early in the morning until early or late in the evening. They close on Sundays and are only available for a few hours on Saturdays.
Unavailability on particular days and dates is not the case for an online furniture store, which can be open 24 hours a day, seven days a week, including Sundays.
Lower your maintenance expenditures.
Thousands of clients can be served by your online furniture store. Only one or two store managers may assist these virtual shoppers. The operational expense of a physical business is higher due to larger employee payroll. These workers will also require paper towels, computers, locker rooms, and other amenities, which will increase costs.
Scalability
An online business can sell an almost infinite number of things. You may construct hundreds of new display rooms or showcase new furnishings with a few clicks. A physical store needs to extend its premises to add the same number of things.
Being able to provide clients with more relevant offers
Online consumers can offer you messages, reviews, and feedback to help you enhance the client experience. Use surveys to discover what your customers want and need. An online furniture store, for example, can employ surveys to "predict" which furniture color would sell the most, allowing them to obtain more stock.
There are numerous "tricks" that can only be accomplished through eCommerce.
An online furniture store might employ various methods and strategies to boost sales. Offer discount coupons in return for a customer's email address when visiting your online furniture store. Send email campaigns and pamphlets to convince customers to buy—Upsell by "recommending" other things purchased by customers purchasing the same product. Using website banners and marketing adverts to highlight a product is also easier.
More payment alternatives, quicker transactions, and faster cash flow
The online buyer can select from a variety of payment portals. They can use their credit card, but let's pretend it's no longer valid. They can make use of PayPal. Don't have a PayPal account? What about direct bank transfers?
Online payments make it easy for the proprietor of an online store to account for sales. There will be no more auditing end-of-day sales, counting cash, and depositing it to the bank.
How to start an Online Furniture Store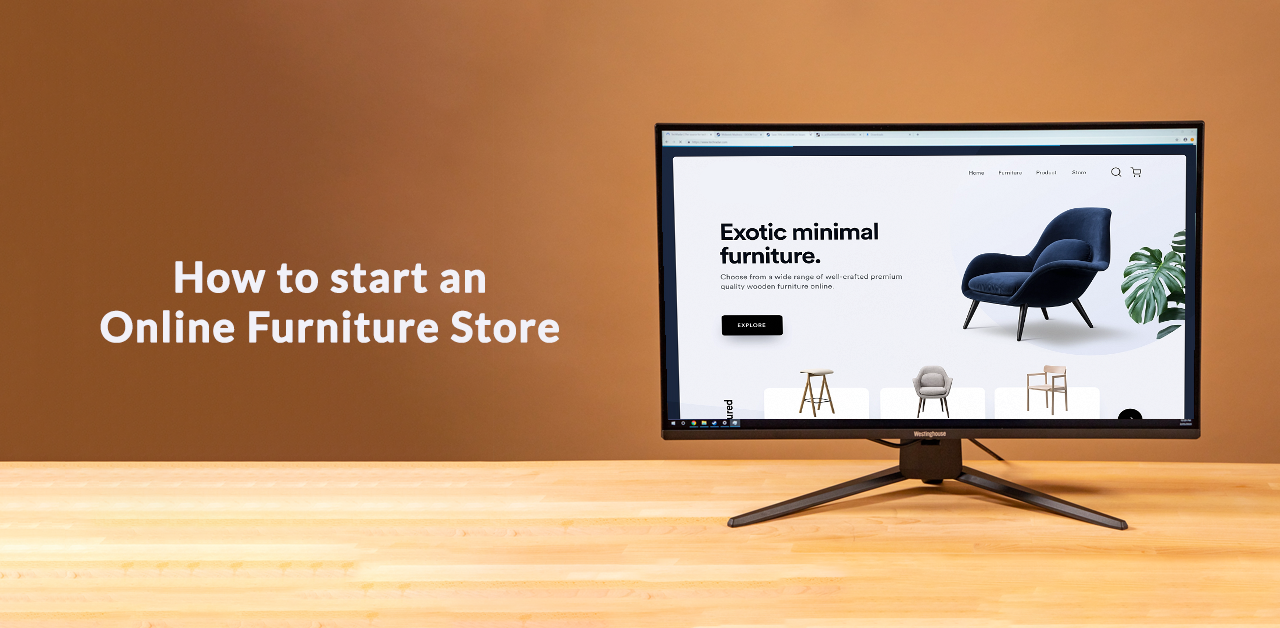 Now that we know why it is advantageous to start an online furniture store, let's look at the steps involved in establishing one. Here are the steps that need to be followed to start an online furniture store:
Select a niche
Given the variety of niches available in the furniture market, you must choose one and base your business on it. It will aid you in creating a brand for your online furniture store. The following are some of the most popular domain niches:
Home furnishings,

Kitchen setup

Home decors

Cabinet furniture

Bean furniture
If you specialize in unique furniture, feel free to establish a business around it.
Market Analysis
Once you've decided on the niche you want to cater to, you must conduct a demographic analysis or market research.
It would be best to determine what products the consumer prefers to buy in the category before adding them to your online furniture store. Because of its widespread appeal, it will contribute to a significant increase in sales.
Purchasing Furniture
Suppose you are a furniture merchant or maker. In that case, your products online are either manufactured by you or available in your physical store.
If you have a staff to create the furniture, it might be a specialty in and of itself because you can supply unique solutions to the clientele.
However, you can also obtain furniture through a variety of market wholesalers. You can purchase furniture from them and send it to customers while emblazoning it with your brand's logo.
A separate warehouse is not required in such a business strategy, making it more straightforward and accessible.
Website
To create the website for your online furniture store, you must engage a skilled web designer.
A proper website layout is crucial, and it should be done per the concept of the business and the niche you intend to cater to. Get a self-explanatory theme so that people can grasp what your online furniture store is all about with just one look at your website.
Add a functional shopping cart option to add things to their basket and purchase them anytime they want; it also aids with bulk ordering.
Ascertain that the payment gateway on the website is safe and secure so that when consumers buy and pay, they have no trouble or threat from anonymous attacks on their virtual payment medium.
Increase brand confidence by incorporating payment methods such as PayPal, allowing users to instantly trust and make an online payment.
Mobile App
People are making more purchases via their phones than ever before, thanks to the popularity of internet shopping.
If you create a website, it is recommended that you also create a mobile app for it so that people can access it from their phones.
Delivery Partner
Furniture is typically heavy and difficult to carry from one location to another. You must have competent delivery agents who will ensure that the delivery is completed on time and without causing any damage to the merchandise.
Join forces with some of the most reputable delivery solutions providers to assure on-time delivery!
Branding Promotions
Promotions for the brand are unavoidable when selling online. People must first understand what your brand stands for before they will be willing to visit your website and purchase.
You must hire a qualified SEO specialist to assist you in increasing traffic to your online furniture store. Keyword targeting and blog posts are the most important thing to be included, which will help in increasing traffic and engaging visitors to your online furniture store.
You must advertise the company to the greatest extent possible so that people will remember you as a "brand recall" in a short period.
When communicating with clients, use your social media profiles appropriately. Respond to any online inquiries properly; your professional demeanor and behavior will undoubtedly attract visitors and bring them immediately to your online furniture store's homepage!
Get a list of email addresses to whom you may send promotional emails and offers so that they can visit the website directly by clicking on the link in the email. Numerous paid advertisement choices are available on the internet; use them carefully to drive visitors to your website.
Selling via a Third Party
If you want to skip these stages and sell your things online, you can sign up as a seller on top eCommerce websites, such as Flipkart, Amazon, or Pepperfry.
You can sell your product to many people there, but you must pay them a portion of your revenues. That's all there is to it, guys!
Conclusion
To start an online furniture store requires work and a monetary and time investment. You can choose to build an online furniture store using a primary, low-cost platform. Put yourself in the position of the customer, however. Would you buy expensive furniture from a clunky online store if you had the choice?
Just as in the real world, a buyer would prefer a well-built and adequately designed online business over something ugly and hurriedly constructed. Only 1% of the furniture industry is online; thus, the market is wide open for you to capture!
Related Articles
Things to keep in mind before developing an Online Furniture Store