Online medicine delivery apps have gained popularity, giving users the convenience they need to order medications.
In today's world, consumers expect a quick, simple way to connect with your services through an app.
The emergence of online pharmacies with mobile apps enables patients who need medication but cannot visit a physical pharmacy to get it.
With the changing habits of its customers, the pharmaceutical industry is experiencing rapid growth in 2022.
There has been a rapid increase in globalization, digitalization, and competitiveness in this lucrative industry. Due to technological advances in the field, the pharmaceutical industry will continue to become more patient-centric.
That's why most pharmacists are looking for ways to compete in the market and succeed.
You'll find this guide beneficial if you want to develop an app for medicine delivery.
This guide will show you how to create and launch a medicine delivery app in 2022 successfully!
How to Create a Medicine Delivery App in 7 Easy Steps?
You've got a great idea for an app, and you're ready to start!
However, do you need help figuring out where to begin?
Fret not! Create and launch your medicine delivery app by following these 7 simple steps: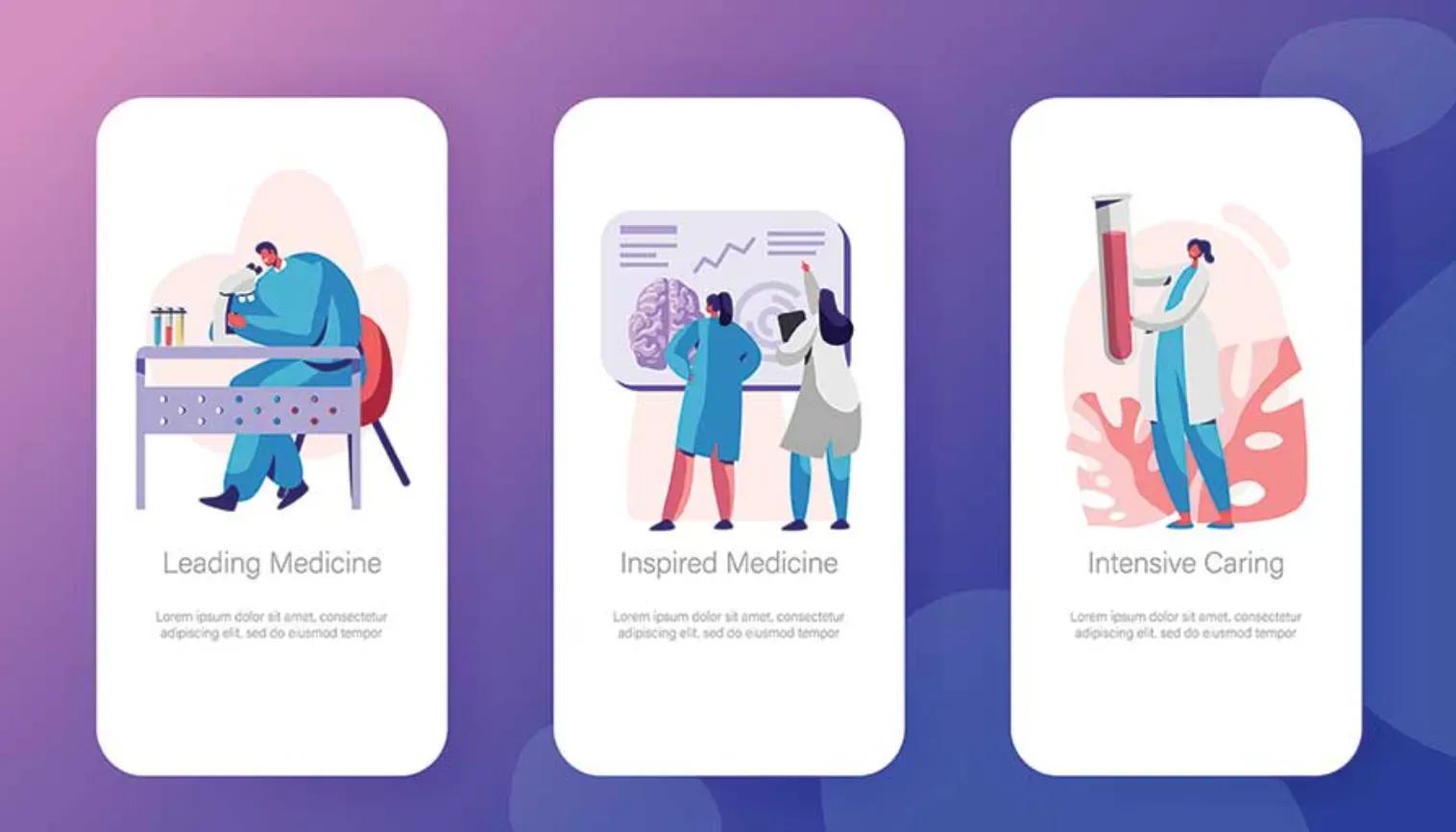 1. Identify target market, competitors & monetization strategy
In this stage, you'll need to identify your targeted market, modalities, common roadblocks in the sector, laws governing your jurisdiction, competitors, etc.
You can develop a killer development strategy for your medicine delivery app with good market research.
2. Decide the Business Model
There are two business models to consider when starting a medicine delivery business.
A. Operational Business Model
A business model like this involves big pharmacy retailers storing a large number of medicines and then expanding their business from the offline to the online world by creating a medicine delivery app.
With a large inventory of medicines and other pharmaceutical products, retailers can offer a variety of medications, thus achieving high brand recognition.
B. Marketplace Business Model
In the second model, online pharmacies form partnerships with local brick-and-mortar pharmacies without stocking medications themselves.
The revenue generated by this business model is shared between the Online Pharmacy and the Local Pharmacy in accordance with the terms and conditions agreed upon by both parties.
Entrepreneurs can pool funds to improve the core operations of their startups using the marketplace model, as it requires minimal infrastructure and has no inventory.
The model is also justified because it reduces monopolies and allows everyone in the area to benefit from the app's listing of all nearby pharmacies.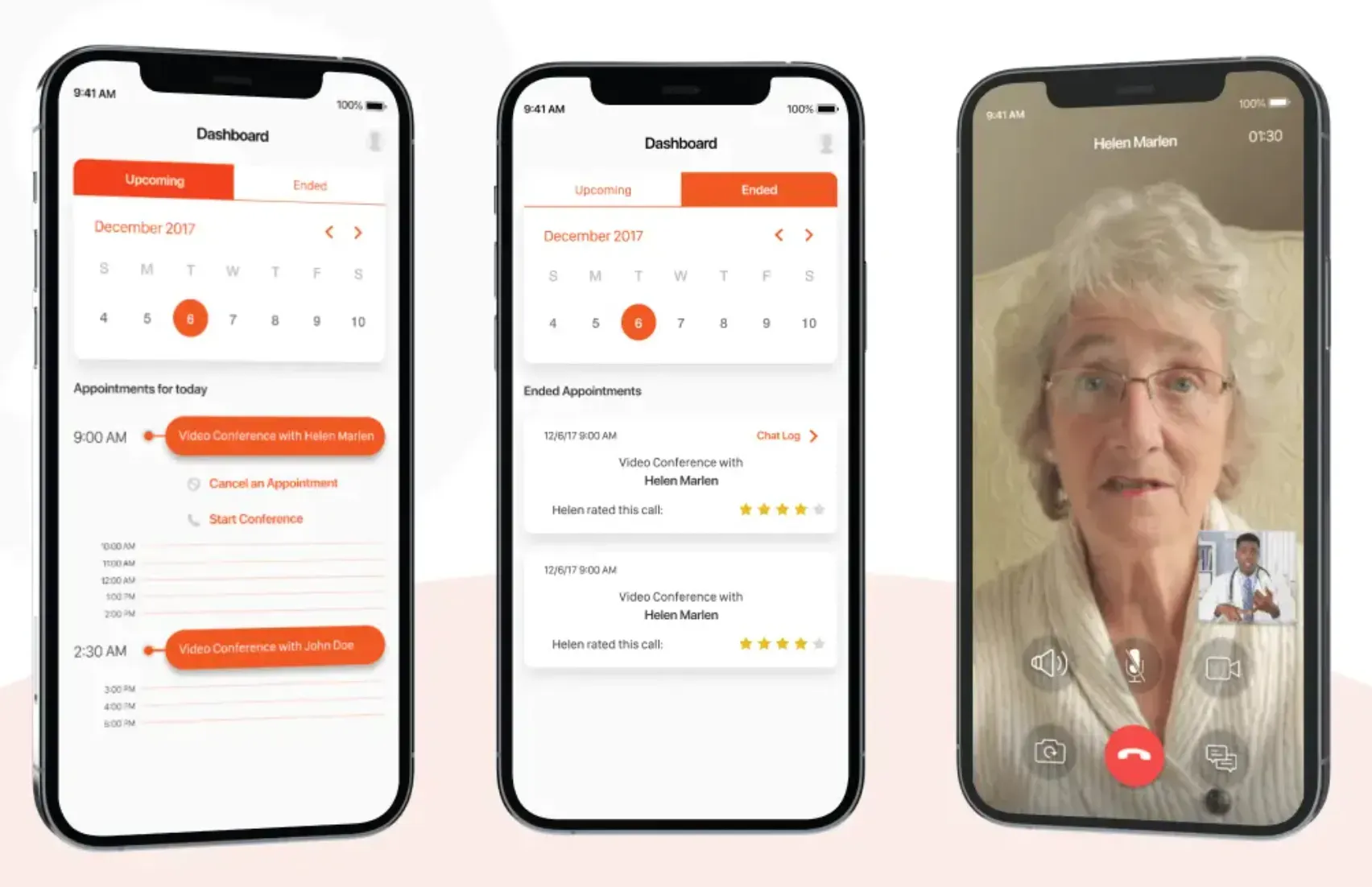 3. Hire a competent App Development Company
It's now time to start creating the app. You can begin building the app if you know how to do it.
Or you can hire a trustworthy app development company and outsource your project to them.
With AppsRhino, you can easily build an app quickly and easily thanks to its numerous user-friendly features.
Your project is in good hands with AppsRhino's highly trained and competent developers.
With AppsRhino, your app will be developed on time and to the highest quality!
4. Finalize app functionality
Based on your business model, you will need to determine what functionalities your app will offer users during the launch and what will be added later.
Having identified the features of your app, you can begin prioritizing them according to their benefits and cost.
Doing this will avoid including unnecessary or useless features in the final product.
Pro Tip: Keep your end users from being overburdened by unnecessary features. It will overwhelm them, and they will lose interest in it. Launch your app with the essential features first, then gradually add more features.
5. Test & Launch Medicine Delivery App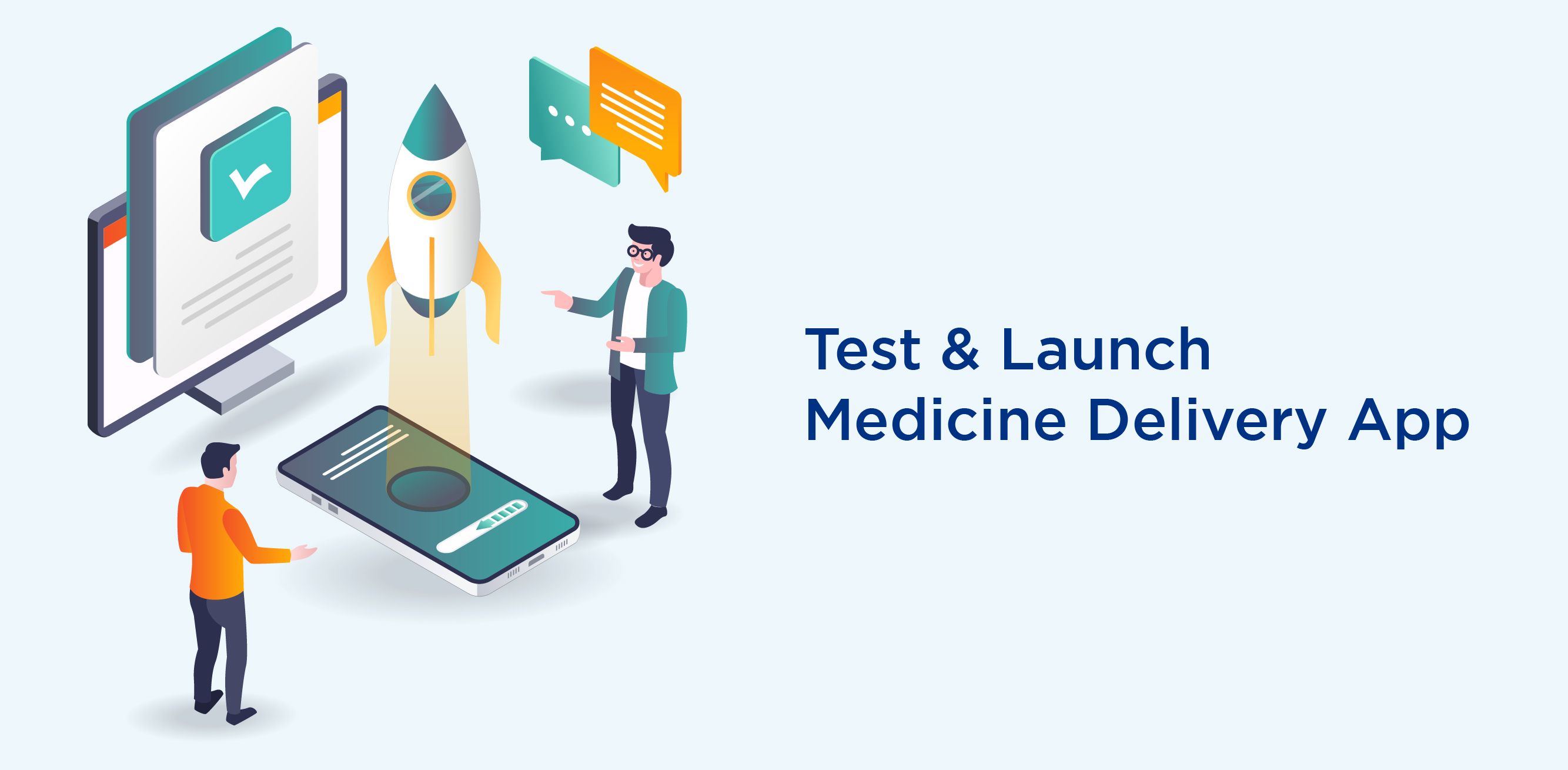 When the app development company is done developing the app, you will need to test it, and if you are satisfied with it, you can launch it.
Your app is ready to go live once you've tested and improved it. Voila! Your medicine delivery app is ready to be launched!
6. Maintenance
Having launched your app doesn't mean your job is done. It needs to be adequately maintained, and any bugs or issues should be resolved.
As a result, hiring a reputable app development company is advisable instead of doing it yourself.
7. Marketing
Now, you have developed a handy app for delivering medicine. However, what should be done if end users are unaware of it?
Make sure your prospective clients hear about you in a positive light through proper marketing of your app!
Must-Have Features Of A Medicine Delivery App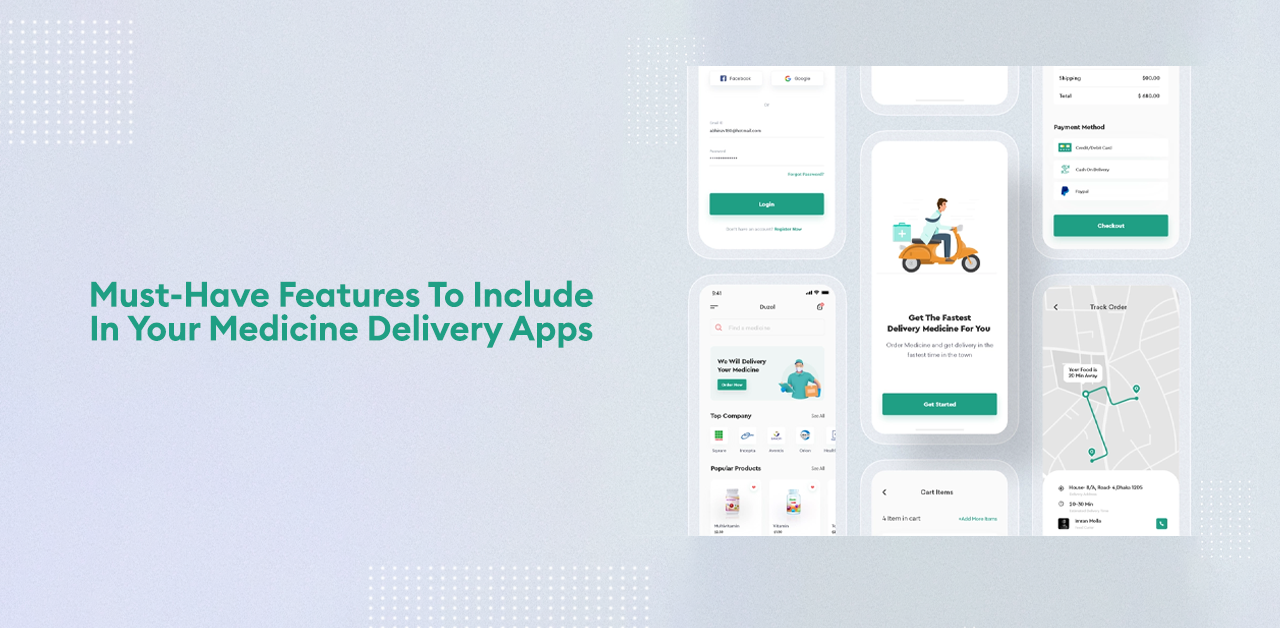 A top-notch medicine delivery app should have top-notch features! Let us take a look at some features that your app must have:
Customer App
It includes:
Registration & Login

User Profile

Upload Prescriptions

Secured Payments

Order tracking
Admin Dashboard
It includes:
Manage Users and Supplies

Inventory Management

Analytics Reports

Real-time Tracking
Delivery Agent App
It includes:
Delivery agent Profile

Delivery Status Input

Instant Order Notification

Swift Delivery

Seamless Payment Process
Vendor Dashboard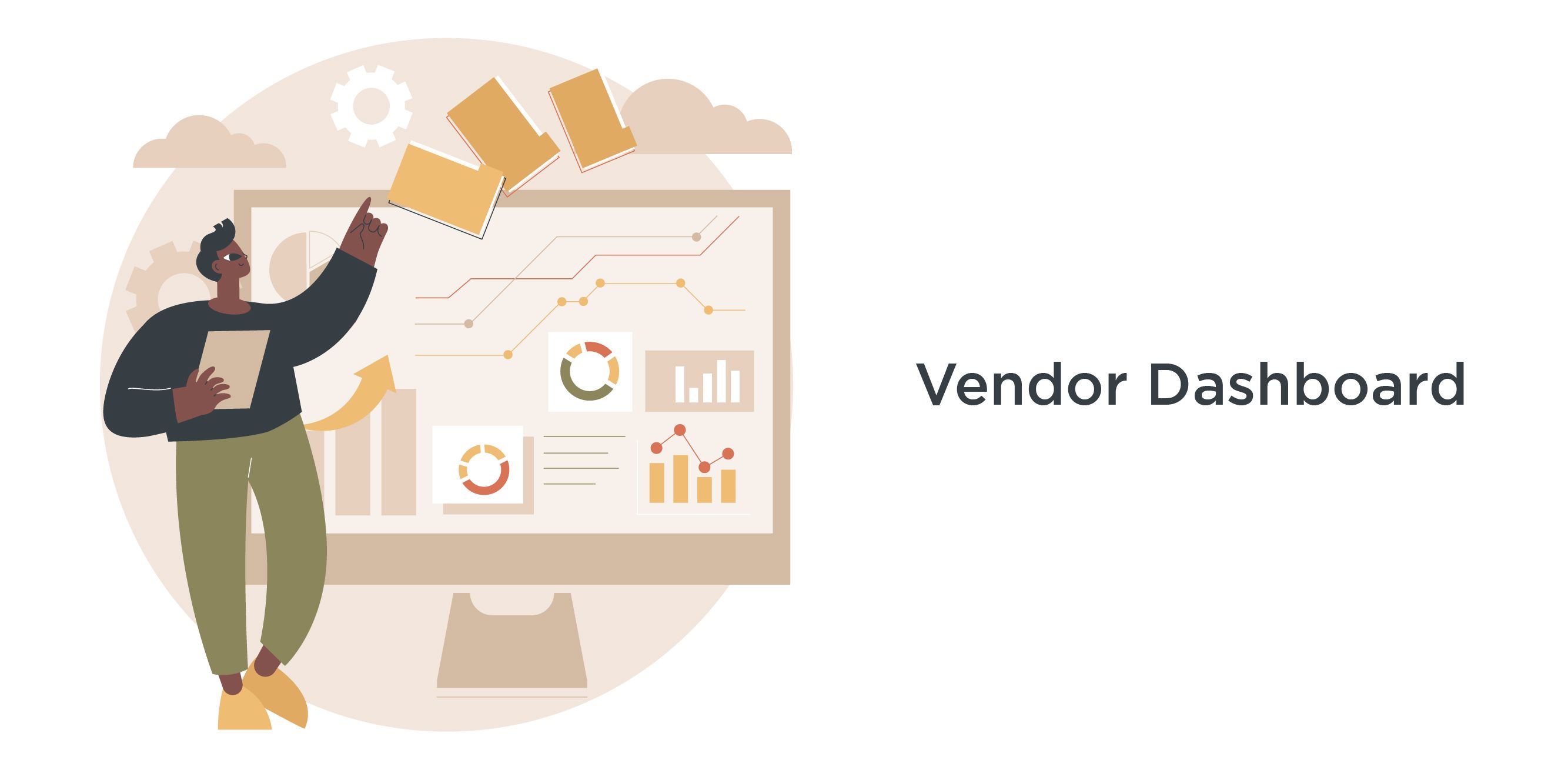 It includes:
Vendor Profile

Push Notifications

Availability Status

Order Management

Delivery Status
Cost Of Developing A Medicine Delivery App
Even though several dynamic factors determine the cost of developing a medicine delivery app, the following parameters can give you a broad estimate.
App features

Development platform

Location of developers

Time taken to develop the app

Additional services (like market research and business analysis)
As mentioned above, the cost of developing a medicine delivery app is based on various factors. You must understand that different countries charge different prices when choosing the right location for your app development.
For instance, the cost of hiring a US-based developer might range from $150 to $250 per hour. In contrast, a typical hourly rate for UK or European developers is between $120 and $180.
Asian developers typically charge about $40 to $80 an hour.
Furthermore, other factors are considered, such as the platform you decide to use. A multi-platform app will also increase the cost to a significant extent, depending on the app type.
Generally, one should expect to invest $10,000 to $50,000 in building a medicine delivery app.
Conclusion
The market for online pharmacies already exceeded 68 billion USD in 2021, and by 2028, it is anticipated to reach 207.2 billion USD. It is expected to increase at over 16.8% CAGR throughout that time.
Medicine delivery apps are quickly becoming the most popular means for individuals to receive healthcare services—making standing in line to buy medications a thing of the past.
As more and more companies move their operations online, pharmacies must take advantage of this rich market's potential to seize fresh business opportunities.
Are you looking for assistance with creating an on-demand application for your business?
Fret not!
Assisting you at every stage of developing a unique on-demand application is what AppsRhino does best.
With this market-leading platform, you can create an app easily and quickly, thanks to its numerous user-friendly features.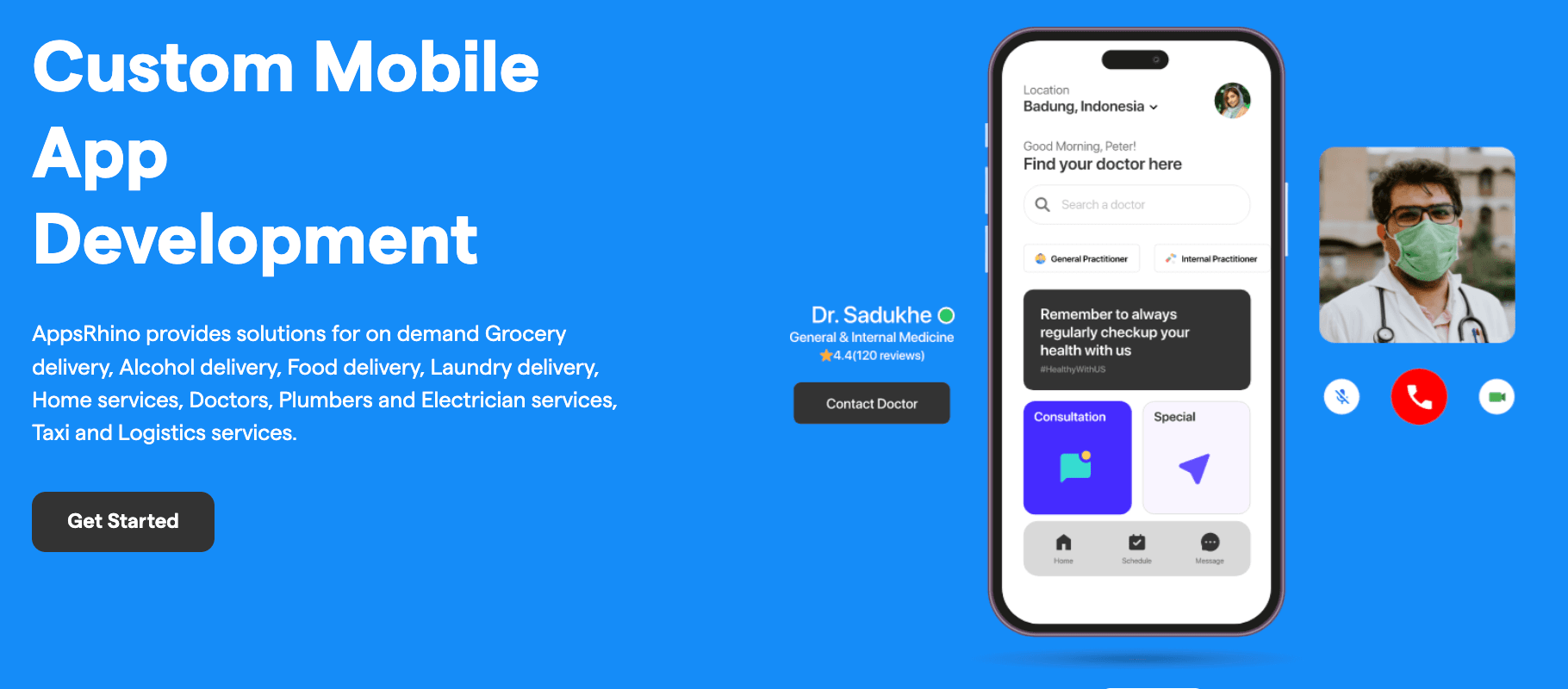 Along with Medicine Delivery App AppsRhino is best go to Solution for the best Tech-driven solutions for Home services, Laundry delivery, Alcohol delivery, Grocery Delivery, Food Delivery, and Taxi Services:
With AppsRhino, you can create the app of your dreams. Call us right away!
Frequently Asked Questions (FAQs)
How can you develop a medicine delivery app?
There are two main options: develop it from scratch by hiring a team of developers, or use a ready-made app solution tailored for medicine delivery apps.
What features should a medicine delivery app have?
A medicine delivery app should have features like user registration, search and order functionality, payment options, prescription upload, real-time order tracking, and notifications.
How can you ensure the safety of medicine delivery?
To ensure the safety of medicine delivery, you can integrate features like secure payment gateways, identity verification of delivery agents, temperature-controlled packaging, and proper storage of medicines.
How can you attract customers to your medicine delivery app?
To attract customers, you can offer discounts and promo codes, provide a user-friendly interface, offer quick and reliable delivery, and provide a wide range of medicines.
How can you make your medicine delivery app stand out from competitors?
To stand out, you can focus on excellent customer service, offer personalized recommendations based on user preferences, provide a user-friendly app interface, and ensure timely and accurate deliveries.