Introduction: Medicine Delivery App
Do you want to launch your medicine delivery app? If yes, then you are not alone. Numerous other institutes or developers are planning to do so. With such intense competition, you might feel lost and need help. But do not worry. We have gathered everything you need to know to launch your medicine delivery app.
Today, people prefer to purchase medicines without stepping out of their homes. This change in consumer behavior is due to the global pandemic we all faced. Even though your business intends to help people, ultimately, you would also want to make profits since no one provides their services free. Here we tell you the business models you can choose, features to add to your medicine delivery apps, advertising your pharmacy delivery app, and monetizing your medicine delivery apps.
Summary
This blog will tell you how to launch your medicine delivery apps. We will first tell you the Medicine delivery App's Business Models. There are two business models you can choose.
These business models are:
Inventory Model
Aggregator Model
Then we will tell you the must-have features for every panel of your pharmacy delivery app.
Features To Include In Customer's App
Elements To Include In The Vendor's App
Elements To Include In Admin's Panel
Components To Include In Delivery Guy's App
After listing the features of a pharmacy delivery app, we will tell you how you can increase your customer reach.
How To increase your customer base On Your Medicine Delivery Apps
Pay attention to ASO.
Social Media Promotion
Influencer Marketing
Teaser Video
Email Marketing
Lastly, we will tell you how you can monetize your medicine delivery apps Monetization strategies for medicine delivery apps
Fees
Subscriptions
Advertisements
Built-in promotion features
Medicine Delivery App Business Models
Since you want to launch your pharmacy delivery app, you should know the two business models that most pharmacy delivery firms follow. These business models help them take care of their operations and activities well. Besides providing better work management, these business models help organizations earn more money by streamlining their work. Therefore it is essential to first decide on the business model that will suit your institute and then start working on your pharmacy delivery app.
Let us take a glance at the two primary business models below.
The First Medicine Delivery App Business Model- Inventory Model
The first type of business model is the Inventory Model, popular among large pharmacies that stock many drugs. Such pharmacies benefit from developing medicine delivery apps to transition from offline terrain to online. The sole reason to build medicine delivery apps based on this business model is to create strong brand awareness.
The Second Medicine Delivery App Business Model- Aggregator Model
The second business strategy is a bridge between clients and drug providers; they deliver medicines from numerous third-party pharmacies. Since this business model involves providing treatments after buying them from third parties, developers of such medicine delivery apps do not need to store medicines.
Thus, this business model signifies that such pharmacy delivery app developers accept orders, process them, and send the medications to their delivery guys.
Now that you know the primary business models, you will be at ease developing medicine delivery apps. First, select the business model that suits your business type, and then build your pharmacy delivery app for your business.
Must-Have Features To Include In Your Medicine Delivery App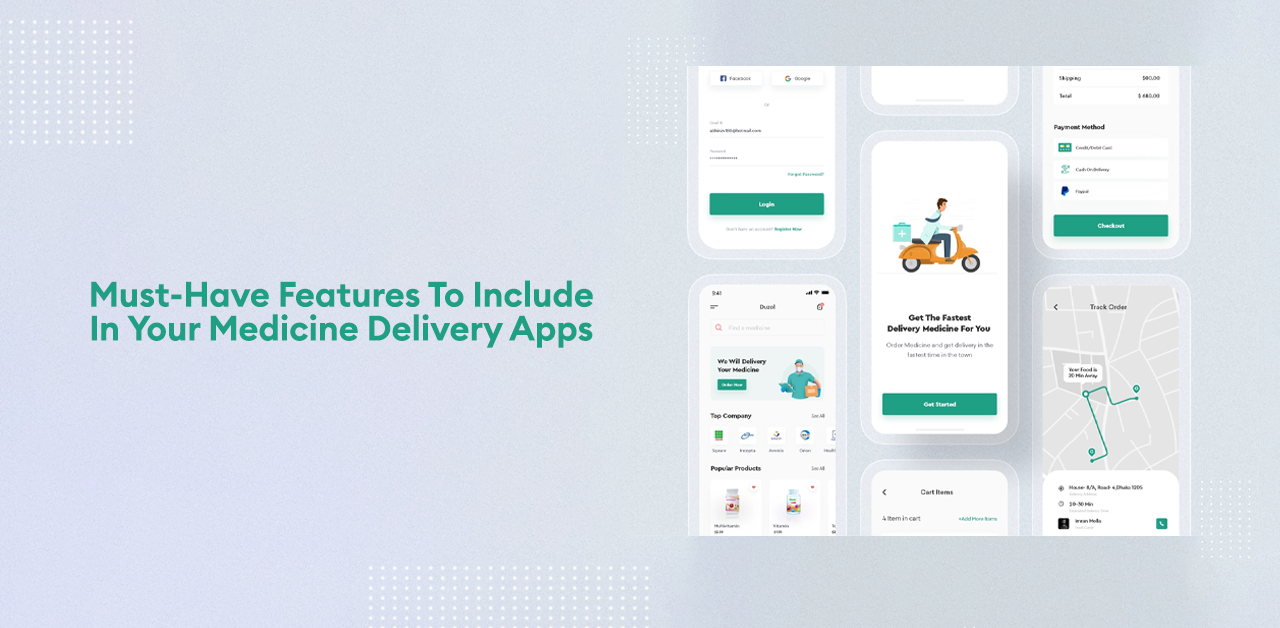 Here we list the must-have feature for every pharmacy delivery app.
Features To Include In Customer's App
Here we list the essential features to add to the customer panel of your pharmacy delivery app.
1. User registration and login
The most effective user registration is the social media log-in, as it speeds up the login and the signup processes.
2. Profile management
People should be able to manage their profiles once they create their accounts on your medicine delivery apps. Profile management includes typing in their name, credit card information, shipping address, etc.
One more thing to include is the forget password feature that helps users retrieve their passwords.
3. Upload Prescription
Users can purchase drugs for the wrong purposes; therefore, it is wise to include a feature in your medicine delivery apps that asks for prescriptions. You can send these prescriptions to pharmacists to verify these prescriptions to ensure the authenticity of the purchase.
4. Search medicine
It will be pleasant for users to include excellent search features to buy medicines. You can add features to your medicine delivery apps that let users search with filters and search medicines by categories, manufacturers, related medications, etc.
5. Pay for orders
Users find it easy to pay for medications without leaving the app once. The cherry on the cake is the inclusion of numerous payment methods.
6. Drug specifics
To increase transparency and inculcate good buying practices in buyers, you can add detailed descriptions of the medicines you sell on your medicine delivery apps. This move ensures that buyers are aware of what they are purchasing and know the potential side effects of the medications.
7. Ratings and feedback
Your medicine delivery apps should give customers a platform to report any concerns and review the items and services. It calls for a customer feedback feature in your app.
8. Notification
A good pharmacy delivery app reminds its users about a new drug, future discounts, and special deals. Besides these mundane reminders, you can also tell them when they need to replace the medicine supply.
9. A refund request
Add a feature that lets users ask for refunds. Buyers should be allowed to request a refund if their medications are not delivered or are delivered incorrectly.
Features To Include In The Vendor's App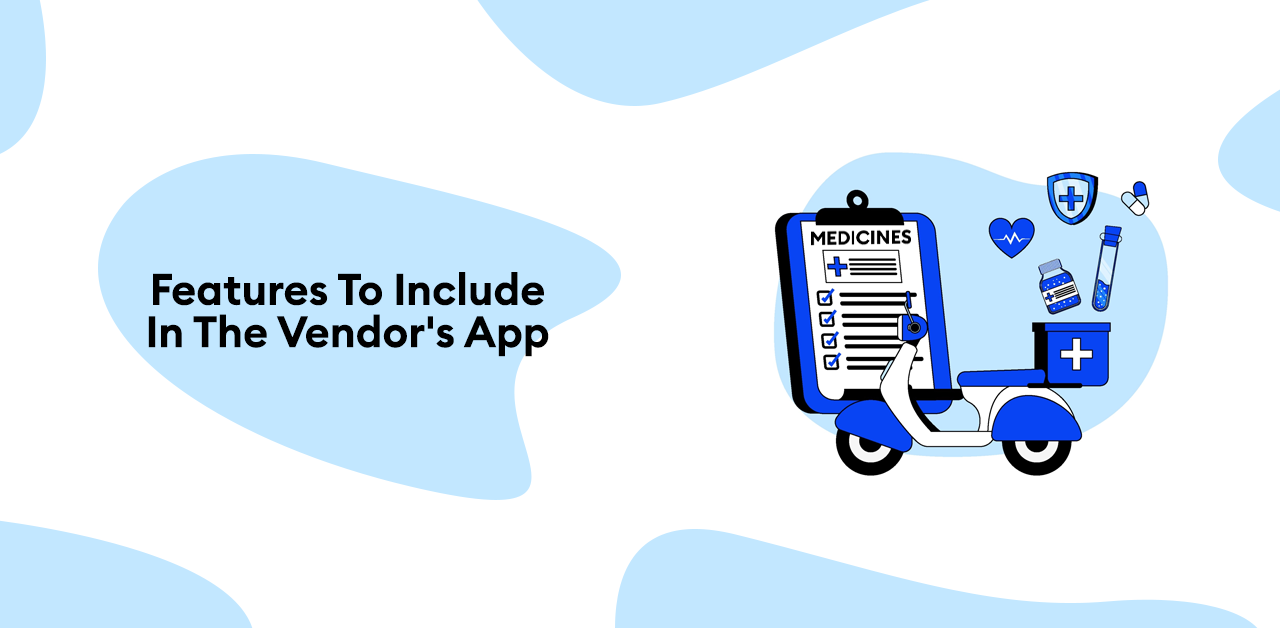 These features will help you if you sell your items or act as a platform for third-party merchants to trade using your medicine delivery apps.
1. Register/Login
This functionality is mandatory if you want to construct an online Medicine app where third-party merchants can sell their items. Merchants should be able to set up an account and supply basic information.
2. Account Management
After creating an account, merchants should be able to give their business data and add information.
3. Order management
This feature is needed to help pharmacies process and manage orders, make returns, control refunds, verify prescriptions, etc.
4. Order alerts
This feature helps notify workers when a new order arrives. It ensures quick order processing.
5. Prescriptions in digital form
This feature ensures that pharmacists can read and verify prescription files.
6. Payments
This feature lets you acquire information about all ongoing payments and regulate their flow.
7. Order history
This feature provides medicine workers with historical information on all orders.
Features To Include In Admin's Panel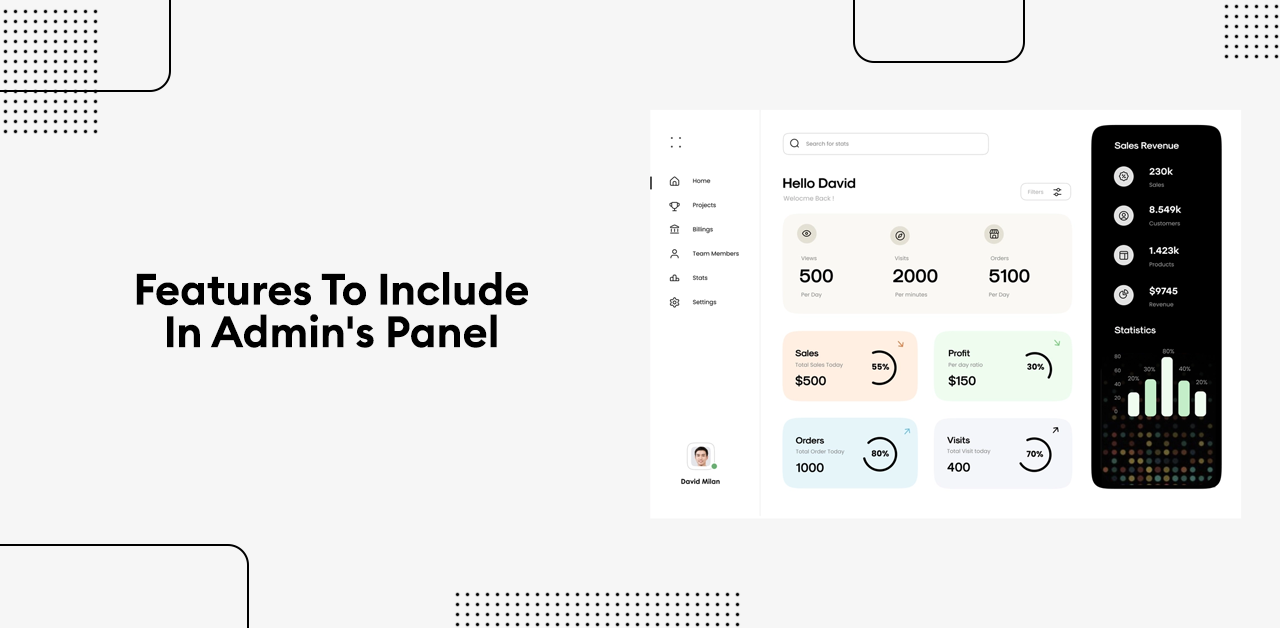 The features you should include in the admin panel of your medicine delivery apps are:
1. Dashboard
Dashboards equip admins with a comprehensive way to handle orders, delivery, customers, third-party providers, etc.
2. Payment gateways
A pharmacy delivery app should offer numerous payment options to clients to make payments directly in your app.
3. Analytics
Real-time analytics supply information on orders and their statuses, canceled orders, chargebacks, payments, etc.
4. Order tracking
This feature lets admins see all orders placed by customers at all registered pharmacy stores.
5. Customer service
Customer service ensures that clients get answers to their queries whenever they face problems.
6. Inventory management
Inventory Management is a crucial function that permits regular product restocking, keeping track of expiration dates, and preparing for seasonal boosts in demand.
7. Management of users and suppliers
Your medicine delivery apps should include a feature that allows admins to manage all users, pharmacies, suppliers, etc.
Features To Include In Delivery Guy's App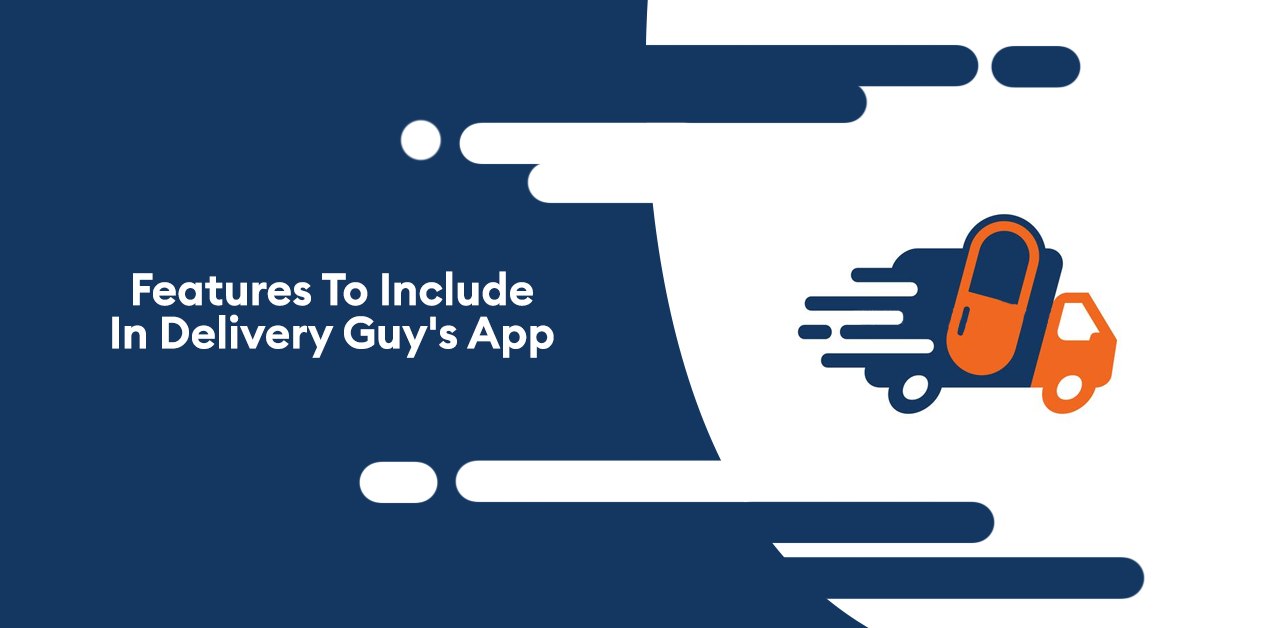 Here we list the essential features in the Delivery guys' panel of your medicine delivery apps.
1. Registration/Login
The first thing that any delivery guy needs to do is register on your pharmacy delivery app. Again, it is easy to let them log in/ signup via other social networking credentials. Therefore, add a feature that lets delivery guys register on the app using different social media credentials.
2. Driver profile
Your medicine delivery app should ask for drivers' details to maintain a database of their personal information. So, add a feature that collects all the relevant driver information; this information can help you in the future.
3. Push notifications
To ease your delivery guys' work, push notifications can come in handy. Push notifications alert the delivery guy when a new order is placed and whenever some modification to a previously placed order happens.
4. Navigation
Since delivery guys' job is to deliver medications to customers, they should be equipped with all the relevant mapping systems that will aid them in determining the best routes to a location without leaving your pharmacy delivery app.
5. The delivery status
Today, it has become common for customers to track their orders now and then. Therefore to supply them with the correct order status, drivers should be able to change the order status whenever necessary.
How to increase your customer base on your Medicine Delivery App
Pay attention to ASO
Today, the App store houses more than 1.6 million applications, making discoverability a massive challenge for app marketers to fight.
It would be best to focus on App store optimization; a properly optimized listing translates to a higher app rank, making it easier for people to find your medicine delivery apps. Any app's ASO ranking is influenced by numerous criteria, including keywords and ratings.
Social Media Promotion
You can leverage social media and promote your app regularly. A regular promotion ensures your app stays relevant for more time, whereas a seldom promotion gives your app a boost for a short time.
Social media promotions increase your app-related awareness and increase your app's downloads.
Influencer Marketing
You can ask an appropriate influencer for a collaboration. Choose an influencer that aligns with your app and business, can target your desired audience, and is popular. Besides social media, you should seek for bloggers to team with and market your app before its debut.
Teaser Video
You can produce videos showcasing all your attractive and well-designed pharmacy delivery app and the things it has to offer. Your aim should be to create a short 30-second commercial telling Why, How, and What for your demo video.
After making the video, promote it on your social media channels and other platforms.
Email Marketing
Ninety-one percent of people read their emails daily; therefore, you should try to promote your pharmacy delivery app in your emails. You can include information about your software in your emails and add a link to the download page.
Monetization strategies for Medicine Delivery App
The main goal of developing a pharmacy delivery app is the business advantage with which it comes. Also, medicine delivery apps lead to an increased customer base and skyrocketed sales.
Here we list a few approaches to monetizing medicine delivery apps that can help you turn your business into a profitable one.
Fees
Suppose your pharmacy delivery app involves collaborating with third-party vendors and giving them a platform to sell medications. In that case, you can earn money by asking them for fees for each product sold or revenue.
Subscriptions
This approach to monetizing medicine delivery apps can bring considerable revenue. You can give free delivery or a discount on mediations to those who pay for subscriptions.
Advertisements
You can give a space in your pharmacy delivery app for placing advertisements. It is a popular approach to turning medicine delivery apps into a profitable platform. You can advertise medicine, other drugstores, or medications offered by third-party medical vendors.
Built-in promotion features
The businesses that follow the aggregator model use this approach. The approach demands that you let third-party merchants promote their businesses inside your application and get money to place their companies in the recommended section, show medicine at the first position in search results, etc.
You can choose any monetization approach, depending on your business model.
Conclusion
If you want to develop a medicine delivery app for your business, contact AppsRhino today! AppsRhino is a mobile app development company that powers on-demand mobile apps and business apps for entrepreneurs and enterprises.
Related Articles:
10 Key Features of that every Medicine Delivery App should have